This Busy Family Achieves Balance in their Home
A Mercer Island house is an exercise in the ever elusive work-life balance
By Shannon O'leary April 29, 2016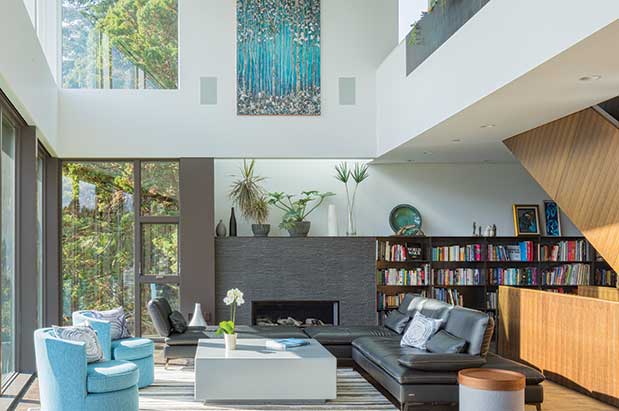 Of course, there's no such thing as having it all.
But Thellea and J.C. Leveque, both with hyper-demanding careers (he's a neurosurgeon, she's an ophthalmologist), active lifestyles (they bike, ski and sail), two young children and a labradoodle named Echo, have managed to pull off a pretty impressive work-life balance. And it's mostly thanks to their house.
Shortly after the Michigan transplants' online search of "modern, Seattle architect, budget" turned up their ideal designer, Allison Hogue of Floisand Studio, they found their perfect property: A quiet, end-of-the-street affair with trance-inducing water views on Mercer Island. The island location itself provides a perfect pivot for this family, offering easy access to work (the doctors practice in Seattle and Kirkland) and play (such as kids' ski lessons at Alpental, just 45 minutes away), and frequent cultural forays for the adults into downtown Seattle. Together, the trio brainstormed a dynamic dwelling that possesses an owner-mandated neighborly scale and 5,300 square feet artfully arranged over three distinct living levels.
Hogue's strategic employment of light and dark elements—a new second story swathed in white stucco hovering above a black base—and carefully selected materials, such as luxe marble downstairs versus plastic laminate Ikea items upstairs, kept the budget balanced and created important design demarcations and connections.

Wall-to-wall glass lines the main floor making the most of the abundant water and mountain views
Upstairs is where the couple's greatest work-life line of defense is deployed: a self-contained closet/office off the master bedroom (dubbed the "cloffice" by J.C.), equipped with a mini fridge, tea and coffee service, and direct access to the master bath to accommodate J.C.'s unpredictable on-call schedule. "This was a very key checklist item," Thellea says. "J.C. can close the door, make his coffee, read his MRI scans, communicate with the hospital, take a shower, get dressed and leave. I don't hear any of it."
Adds J.C., "Basically, I can live in there."
Follow the home's walnut-paneled, central staircase down a flight, and an open-floor plan reveals the home's most public level, as well as a chef-worthy kitchen lined in custom cabinetry and a runway of an island that houses everything from an instant hot-water sink to compost, garbage and recycling bins to cutouts for easy stashing and charging of tablets and smartphones.
"The home has got to work for you," says Hogue. "We intended to provide a thoughtful spot for everyone's needs with the design."


J.C. gets to work in the 203-square-foot upstairs closet/office aka the "cloffice" just off the master bedroom

Thellea, Ansel and Sabina play a game of Ticket to Ride

The top floor, open hallway bridge

The new home meshes well with its lower-profile, mid-century modern neighbors
It's the basement, however, that might boast the home's most impressive display of utilitarianism. Designed for multiple uses, this family flex space encloses a kids' play zone; a mother-in-law suite, with its own bathroom and entrance; a media room; and crafts room, where Thellea, an accomplished artist, routinely gets creative. (The art wall in the foyer features her eye-catching 3-D installation.)
"We live on the main level, but when we come down here, it's only to play," says Thellea. "I can do my art, or we can watch a movie. We sort of retreat into our little cave as a family. It's really special."

The kitchen's 17-foot-long island discretely houses a dishwasher, recycling and compost bins and a smartphone/tablet charging station

A spacious master bath off the working space known as the "cloffice"
This modern home was selected by a panel of architects for the AIA Seattle (aiaseattle.org) Home of Distinction program in recognition of the architect's careful translation of the client's ambitions into the final design, which is a well-loved environment for family life and a resource for work life, too.
RESOURCES
Floisand Studio
Allison Hogue, AIA, project architect; Richard Floisand, Kevin Tully, Ian Towle, Tim Carter, design team; 206.634.0136, floisandstudio.com
Ambrose Construction
Brad Wageman, general contractor, 206.455.9110, ambroseconstruct.com
Swenson Say Fagét
Gary Mackenzie, structural engineer, 206.443.6212, ssfengineers.com
Susanne O'Trimble Landscape Design, 206.399.0178
Seattle Manufacturers and Suppliers
Cabinetry: Northwest Custom Interiors Inc., 206.257.3085, nwcustominteriors.com
Steel fabricator: Mark Whitten, Twisted Metalworks Inc., 206.402.5695
Lighting: Inform Interiors, 206.622.1608, informseattle.com; Trammell-Gagne, 206.762.1511, seattledesigncenter.com
Stone supplier: Oregon Tile & Marble, 206.762.1858, oregontileandmarble.com
Stone fabricator: Architectural Stone Werkes Inc., 206.768.8305
Stucco installer: Gerry Rice, Rice Stucco & Siding Systems Inc., 206.718.5147, ricestucco.com
Sign up and get Seattle's best events delivered to your inbox every week.