Emerging Home Design Trend Makes Room for Extended Family
The mother-in-law suite concept gets glammy.
By Callie Little June 14, 2017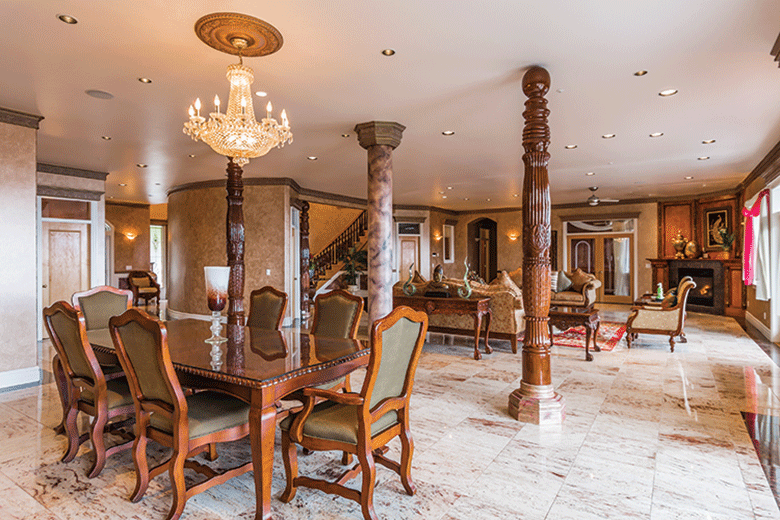 Among recent trends in real estate is this one: millennials, Gen Xers and baby boomers who are choosing to all live under the same roof, and are looking for homes that will easily accommodate this.
One in five Americans, or 19 percent of the country's population, is living in a multigenerational household today—the term for three or more generations of the same family sharing property, according to the Pew Research Center. That's up from 15 percent in 2000.

Image by HD Estates
A master bedroom in the "La Belle Maison" plan from JayMarc Homes includes an ensuite seating area for time away from family.
Locally, the trend is driven by several factors including high-tech companies that are bringing families here from across the world, where multigenerational homes are common, and by generations choosing to live together to meet specific family needs. "Sometimes it's a family with young kids whose live-in grandparents act as full-time nannies," says Valerie Sheets of Lennar, a national home builder offering several multigenerational floor plans for homes in Washington and beyond. "Other times, it's families with young adults still living at home, or families with children who have special needs." These families are looking for homes that offer privacy and independence along with togetherness, she says. 
This style of living has advantages, says Beth Wylie, a licensed therapist with Pacific Northwest Family Therapy. "Benefits include high levels of emotional bonding and closeness, grandchildren learning from grandparents, financial strain and stress is lowered and grandparents report feeling younger by remaining more active with their grandchildren."
One of the most defining features of homes for multi-gen families is the inclusion of elder-accessible first-floor units, complete with amenities such as kitchenettes and private entrances. While there are floor plans available in the more affordable price range—the multigenerational plans in Lennar's Hawkesbury community in Kent begins in the high $500K range—buyers who seek larger properties, including those with asking prices in the multimillions, will have access to homes that give these extended families room to sprawl, says Don Weintraub, a broker with Windermere Real Estate. "If they're two or three stories, there's a bedroom and bathroom on every level. Bedrooms are scattered around and offer a lot of privacy." 

Image by HD Estates
The kitchen has plenty of room for the whole family.
A house isn't the only option for a multigenerational family—at least one condominium project in the Seattle area is catering to this trend. Project manager Eugene Hu of Create World America, a real estate developer with an office in Bellevue, says the company hopes to attain permits to build a tower of about 120 multigenerational dwellings by the end of 2018. Floor plans will include full-size two-bedroom units with smaller adjoining studios, and Hu says that plans include bringing a day care, doctors, a salon and other services into the building's retail spaces to further support multiple generations.