The 'Farmer Florist' is the Northwest's Newest Bumper Crop
The region's new wave of flower growers cultivate bountiful blooms from seed to vase.
By Kate Calamusa June 21, 2017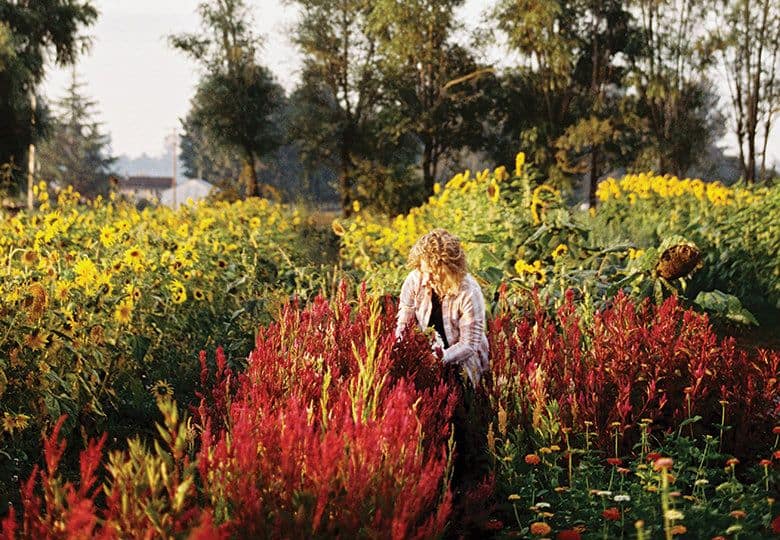 Waves of dahlias coming into bloom in vibrant shades of aubergine, magenta and gold; rare and seemingly petal-perfect garden roses; fields upon fields of full, luscious peonies. Romantic visions such as these have long been associated with exotic flower-growing locales, like the Netherlands, Ecuador or Colombia, but in the Northwest, these dreamy scenes are becoming a reality as a new wave of growers bring spectacular locally grown flowers to market—and their floral design skills, too. 
The Emerald City is no stranger to the farm-to-table movement, with revered chefs like Matt Dillon and Tom Douglas proudly sourcing ingredients from nearby farms and even their own plots. But the "farm-to-vase" concept has been slower to catch on. Florists such as Katherine Anderson of Capitol Hill's Marigold and Mint cite the opening of the Seattle Wholesale Growers Market in 2011 as a pivotal factor in bringing locally grown blooms (aside from those offered in bouquets at the Pike Place Market) to prominence, first among florists, and then with the public. This farmers' collective proffers seasonal flowers to florists, wholesale buyers and the public (Friday afternoons only), grown throughout Oregon, Washington and Alaska, often at less expensive prices than imported or out-of-season flowers.
Five years after the opening of the Growers Market, enter the newest members of the movement, the "farmer florists," who have streamlined the connection between grower and designer by being one and the same.
"I feel like we've been feeding kindling to this idea for years, and now it has finally caught fire," says Erin Benzakein, founder and owner of Floret Flower Farm, located near Mount Vernon. "I don't think people have ever quite understood the disconnect in the floral market, but I hope farms like ours can change that." Benzakein explains that people don't often think about where their flowers come from, or the fact that imported blooms can be detrimental to the local market.
Set on 2 sweet acres, Benzakein's Floret farm cultivates more than 200 varieties of flowers, planted in the fields in a stunning rainbow spectrum—from sweet peas and chrysanthemums to Iceland poppies and ranunculus. Last year, the farm also grew some 7,000 of its signature dahlias in vibrant hues and sherbet shades. Benzakein, formerly a landscape designer, and her family moved north from Seattle almost a decade ago, craving more space and a slower pace of life. She first tried her hand at keeping chickens and then at growing heirloom apples, but it was Benzakein's small plot of sweet peas that finally forged a direction for the farm. "It was the flowers that stole my heart," she says. "I loved how powerful a simple little bundle of flowers could be to whoever received them."
Floret has flourished ever since. In 2014, Benzakein was honored with a Martha Stewart American Made design award, which not only thrust her (and the movement) into the national spotlight, but provided her with the "seed money" to launch Floret Seeds, a collection of her favorite floral seed varieties, which are sold directly to consumers on her website. Today, in addition to supplying wholesale blooms to the likes of Whole Foods and Metropolitan Market, Benzakein also designs lush, natural centerpieces and romantic cascading bouquets composed completely of seasonal Floret-grown blooms for weddings and special events. She also passes along her gardening and design know-how to other budding farmer florists and floral designers during multi-day workshops held at the farm several times a year.
Nestled north of Floret in Ferndale, amid a U-pick apple orchard and several blueberry fields, the 22-acre, Salmon-Safe- and American Grown-certified Triple Wren Farms grows more than 100 varieties of flora—think trailing amaranthus, rich chocolate cosmos and cherry rudbeckia—sold wholesale and used in wedding-day creations. Owned and operated by Steve and Sarah Pabody, Triple Wren also offers seasonal workshops to the public and a "Buy the Bunch" program for DIY brides looking to create their own arrangements. The latter allows brides to reserve the budding flowers in the field for their wedding arrangements with a $150 deposit; for an additional fee, you can get a one-on-one or group floral-arrangement tutorial session with Sarah Pabody, the farm's in-house designer.

Blooms from Katherine Anderson's family farm in Snoqualmie Valley find their way into Marigold and Mint.
Back in Seattle, Marigold and Mint floral shop owner Anderson, who is also a partner in The London Plane café and floral design studio in Pioneer Square, has seen the movement grow from a seedling. "It's been amazing to watch the industry grow up over the years," she says. "The truth is, it has gotten to a place where the local flowers are often the best out there."
The floral designer began sourcing homegrown flowers back in 2008, when she took over a 2-acre section of her family's organic produce farm in the Snoqualmie Valley. Anderson's signature crops are her springtime peonies, followed by marigolds in the summer. She also finds inspiration in more rustic plants—such as American bittersweet, a twining woody vine that boasts a bright orange color in the fall—and in the heirloom berries that have become one of the hallmarks of her designs.
Those wanting to connect with the farm only have to wander into The London Plane; Anderson's floral design studio is at the center of the airy, cheery space. Shoppers can select freshly plucked stems from the display near the door or have one of the in-house florists design an arrangement for them. Twice-a-month floral design workshops also are offered at the shop; the gatherings are intimate in size, with six to eight people, and sometimes include a locally sourced selection of hearty snacks from Matt Dillon's team at the café.
Kelly Sullivan, owner of the South Seattle-based Botanique floral design studio, may just epitomize the term "urban farmer." The former professional modern dancer started gardening in her backyard as a hobby 10 years back, crafting the occasional bouquet for a friend, and created her first cutting garden five years ago. As requests mounted, she launched her wedding floral design business.
Specializing in organic, whimsical arrangements that are full of movement (no surprise given her dancing background), Sullivan grows garden roses, dahlias, hydrangeas, cosmos, clematis vines and other flora in the 800-square-foot cutting garden behind her Seward Park home. Since Sullivan operates with limited space, flowers are grown for specific purposes and according to season, rather than in large quantities of any given flower type; whatever she doesn't grow herself she sources from the Seattle Wholesale Growers Market. "What we grow is dictated exclusively by what we love and what we can't get elsewhere," she explains. The floral design studio offers periodic workshops; attendees spend a delightful afternoon plucking their own blooms from the cutting garden and learning the ins and outs of floral design.
Sullivan finds that nowadays her clients are asking more questions about where their flowers come from and that the lush, organic look many of them are hoping for is naturally suited to the blooms grown in the Northwest. "People are becoming more aware of locally grown flowers and what that means, even compared to five years ago," she says. "It's a movement, for sure."