First Hill Welcomes New Luxury Tower
Luma condominiums build on the renewed appeal of an old Seattle neighborhood
By Haley Durslag May 16, 2016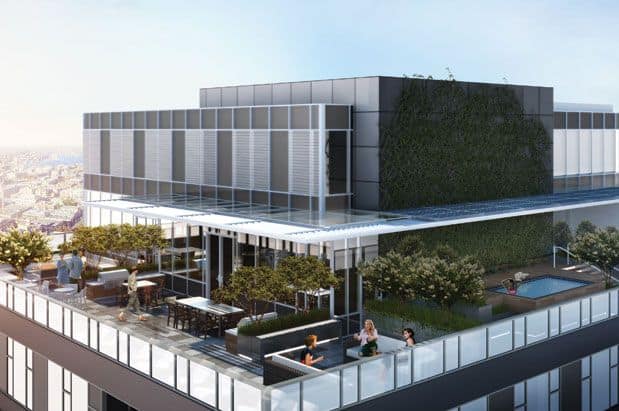 Seattle's First Hill neighborhood, named for the first incline encountered by 19th-century pioneers as they arrived on the east shores of Elliott Bay, will bear witness to another first this summer as residents begin moving into units at Luma condominiums: the first luxury condominium tower to be built in the area since 1982.
Developed by Lowe Enterprises Real Estate Group, the 24-story building is located in a neighborhood still dotted with mansions, gardens and churches built in the early 1900s by some of Seattle's first families. "First Hill originally rose to popularity in the 1890s as a location close enough to downtown, but far enough away to offer a sense of retreat for its residents," says Suzi Morris, senior vice president at Lowe Enterprises.
That appeal continues today, she says, as do the added developments of a "Pavement to Parks" space (a city project that transforms underutilized spaces into public places), a new streetcar operating between Pioneer Square and Capitol Hill, and an upcoming Whole Foods grocery store. "First Hill has become even more accessible and livable," says Morris.
First Hill is also known as "Pill Hill" due to several major hospitals located in the neighborhood. The Luma lot itself was home to a medical clinic before being converted into the 168 luxe residences designed to appeal to a wide variety of Seattleites, from urban professionals and entrepreneurs to empty nesters.
Inside Luma, a typical unit boasts 9-foot-high ceilings, water and mountain views, and premium materials that include engineered hardwood floors and Carrara slab marble countertops in the bathroom. The tower also has earned the designation of LEED Silver through the use of locally sourced materials, its energy efficiency and the responsible disposal of construction waste. "Our goals for these homes were to be timeless and efficient as well as beautiful," says Carrie Smith, principal of interior design at Weber Thompson and design lead for Luma.
Luma's exterior is encased in an alternating pattern of black and white glass, onto which is cast luminous reflections of the city from all directions. The term "luma" refers to the quality of light as it comes through black-and-white film and was another deliberate decision by Smith, further illustrating the project's aim of representing the classic and contemporary elements of city living.
Site Visit
Property: Luma condominiums (liveluma.com)
Developer: Lowe Enterprises  
Designer: Weber Thomson
Number of Units: 168  
Unit Size: 602–1,721 square feet
Price: From the low $500,000s to more than $1 million
Move-In Date: Summer 2016