Living In a Shipping Container Could Actually Be Pretty Sweet, Thanks to Bellevue Student
A design group upcycles a shipping container into a tiny, but chic, living space.
By Callie Little September 25, 2017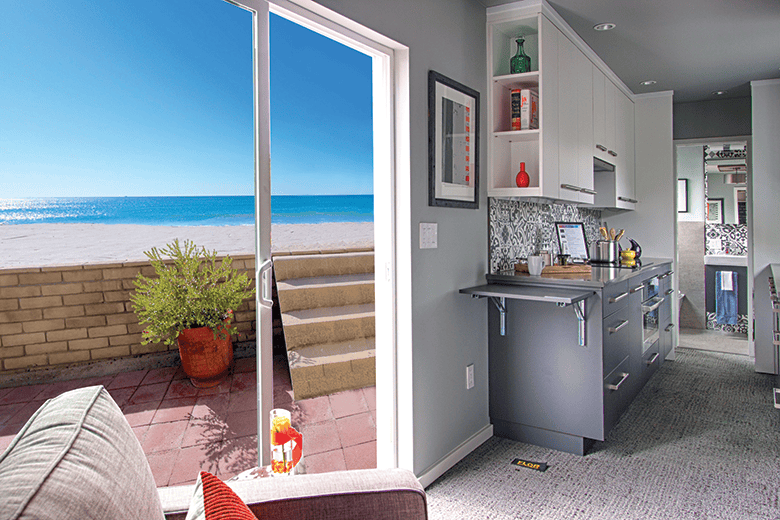 Traditionally used for transporting goods near and far, shipping containers are being repurposed for residential living. Karen Hirschman, a board member of the Washington State Chapter of the American Society of Interior Designers (ASID; Georgetown, 5701 Sixth Ave. S, No. 213; 206.762.4313), noted that burgeoning interest had spearheaded a floor plan design contest for students from all seven Washington colleges and universities that have interior design programs. 
The winning plan for the shipping container (which was purchased by ASID from shipping company ConGlobal) came from Brandon Riem of Bellevue College. The interior design boasts efficiency and simplicity—which are required of a space that measures just 320-square-feet. Although the exterior is simple blue corrugated steel, the interior tones of black, gray and white exude luxury.

Image by American Society of Interior Designers
Rooms are separated by frosted sliding glass doors, while high-end appliances (including a dishwasher, 4-inch tankless water heater, stacked washer and dryer and combination oven-microwave) and custom storage solutions, such as a chic queen-size Murphy bed, create versatility in a space where every square inch counts. 
The home—completely reinforced, insulated and move-in ready—can be viewed at a private Tacoma location (for details, contact ASID by phone or email administrator@wa.asid.org).
It is available for purchase for $79,000 and, of course, can be shipped anywhere.