Living: The Lightness of Seeing
Challenging 'Lopez Lookout' project places a premium on spectacular scenery
By Sean Meyers September 6, 2023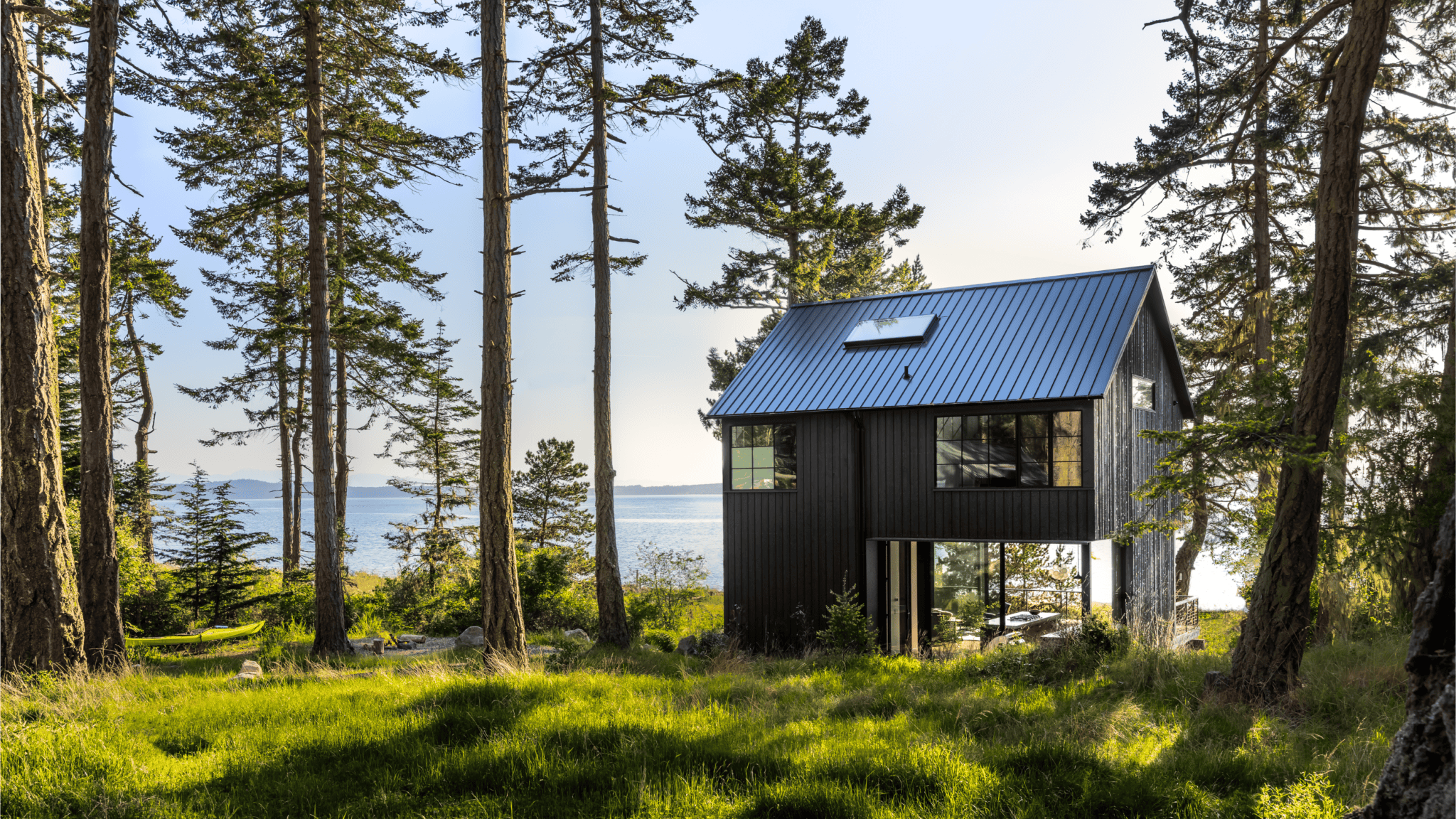 The regulators and nesting eagles weren't the only ones peering on with interest. The third largest of the San Juan Islands at 30 square miles, Lopez is home to about 3,000 year-round residents known for friendly waves at about anything that moves. Islanders are also known for their intense interest in protecting their remarkable environment.
"Others in the area were well aware of the high number of challenges with the site," says Clint, a director of software engineering. "San Juan County has really cracked down — rightfully so," adds Raechel, a theater and nursing professional turned homeschooling mom.
Herrin's firm, which does a lot of waterfront work, has responded to Seattle's "Net Zero by 2050" mandate with its own "Net Zero by 2030" pledge.
"We are hyper-aware of how sensitive the shorelines are. Endangered juvenile salmon are still eating a lot of insects in the San Juans," Herrin says. "Their habitat is critically important. Storm-water runoff is also a huge issue, and we don't outsource that responsibility."
Varying even an inch from the cabin's foundation outline could have invited great opposition. But as an existing, nonconforming structure that predated establishment of zoning codes, going straight up was allowed. Heliotrope's design solution was a two-story-plus loft structure with private spaces upstairs and public spaces at grade.
A simple gable roof and divided-lite windows suggest a modest island structure of indeterminate age. There's a lack of enclosure at the ground level, as if most walls went missing, leaving just enough support. As Herrin notes, "It is a very spartan home."
This architectural intervention maximizes connection to landscape and view and nearly eliminates distinction between inside and out. It's an ideal American architects have been chasing for a century as the health benefits of living among nature become better documented.
This project comes closer than most. A notched sliding exterior door makes possible a continuous indoor-outdoor black marble kitchen counter. A telescoping stove downdraft and the absence of mullions — vertical bars between the panes of glass in a window — minimize interruptions of the view. The counter stone was quarried at Vancouver Island and local cabinet makers, contractors, and artisans were employed where possible.
Herrin included an additional outdoor cooking area on the weather-protected side of the waterfront home. Clint designed a 20,000-gallon water catchment system on the metal roof, which is steeply sloped to shed dirt.
Smaller, more traditional glazed openings on second-floor bedrooms provide a sense of protection and enclosure, a deliberate contrast with the ground floor. The three floors are connected by an open stair capped by a large skylight, which spears light into the chest of the levels below. "You shouldn't have to turn on a light if it's the middle of the day," Herrin adds, "but you don't have to have walls of glass to achieve it."
This architectural intervention maximizes connection to landscape and view and nearly eliminates distinction between inside and out.
A charred cedar reverse board-and-batten exterior helps hide the home from the public shoreline. The house is clad in black in deference to its surroundings, ensuring that the home remains nearly invisible from the public shoreline.
"Our clients are buying these lots that are fairly spectacular, right? And they have these beautiful views," he says. "They paid good money for those views and, by God, that's what we're there for — to help them take advantage of those views."
Clint and Raechel weren't originally sold on Heliotrope's modern approach, which they thought might clash with their own classic antique aesthetic. But, at its core, Herrin notes that waterfront residential design is not complex.
"We're contemporary architects. It's really all we do. If you want a Craftsman home, there are firms that are passionate about doing that type of work," Herrin says. "There was something in our portfolio that made them think we could come up with a design that would make everyone happy. We didn't take them too far out of their comfort zone."