Mazama Mountain Cabin Makes a Cozy, Stylish Retreat: A Home Tour
In Washington's North Cascades, a wood-paneled vacation home provides access to views and outdoor activities
By Catherine Laughlin, Houzz Contributor January 12, 2017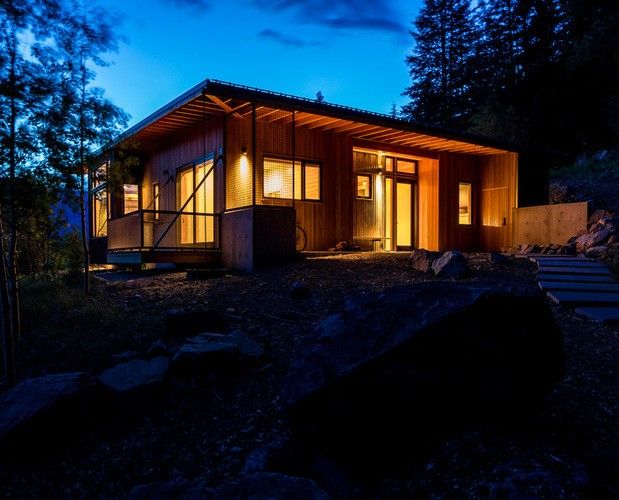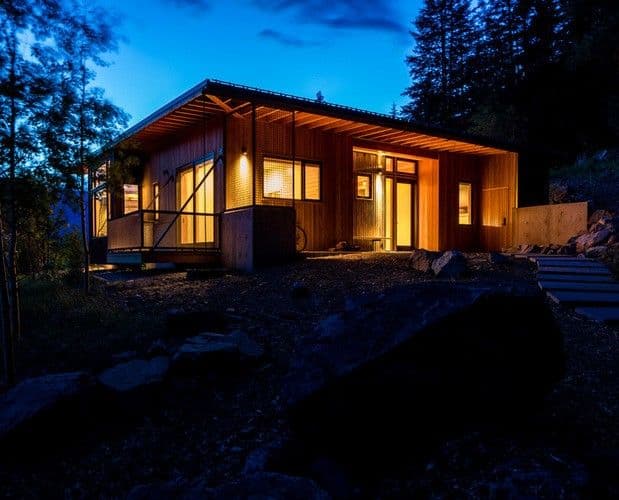 This article originally appeared on Houzz.com.
This house nestled in the North Cascades mountains in Mazama, Washington, reflects the rugged landscape around it while also possessing a modern, airy and stylish vibe. The remote vacation house is owned by a Seattle couple who were instinctively drawn to the beautiful setting of pine forests, crystal clear rivers and diverse topography, and where they spend their free time skiing, rock climbing and hiking. 
Metal fire pit: custom made by Alpine Welding and Equipment
Houzz at a Glance
Who lives here: A couple who live full time in Seattle and work for Boeing
Location: Mazama, Washington
Size: 1,370 square feet (127 square meters); two bedrooms, two bathrooms
After finding a 1-acre plot with killer views, the couple collaborated with Mary Johnston of Johnston Architects to build a second home that would be cozy and easy to maintain. "All of the finishes used add to the rich simplicity of the home," Johnston says. Although the site was challenging, Johnston and her team were able to incorporate the location's spectacular views into the planning of the 1,370-square-foot residence, which has an open-plan living area, two bedrooms and ski-in, ski-out access.
The unpretentiousness of the foursquare house begins with its exterior. The cedar siding and bluestone and concrete walkways also are durable and low-maintenance materials. Since most of their time is spent engaging in the outdoors, the couple felt it was important to have designated areas for storing sporting equipment. A long bench provides a spot for removing skis and boots. A contemporary glass door contrasts nicely with the adjacent metal grating, which offers a surface on which to lean skis and bikes while providing some lightness and texture.
The clean look and rustic design continue past the front door and concrete floors of the entry, providing an unobstructed view to the back of the house. Pine-paneled ceilings flow throughout the house. At the far end of the hall, a custom sliding barn door leads to a gear room where the couple store sporting equipment and can sharpen their skis. The other oversized doors lead to a closet.
Paint throughout: Camouflage, Benjamin Moore
The warm wood tones are punctuated by blackened-steel pendants on the entry hallway ceiling.
Pendants: Caravaggio
A dining room table and chairs sit between the kitchen and great room. The shelving was custom made to display accessories such as teapots, photographs and books. The couple wanted to have some fun with their other lighting choices, so instead of selecting traditional recessed lighting, they opted for black outdoor sconces that are typically used for signage lighting.
Lighting: B-K Lighting; dining room table and chairs: Room & Board