Nine Design Tips for Entertaining in a Small Space
Supersize your next soiree with these clever tricks for lighting, seating and crowd control
By Yanic Simard, Houzz Contributor January 19, 2017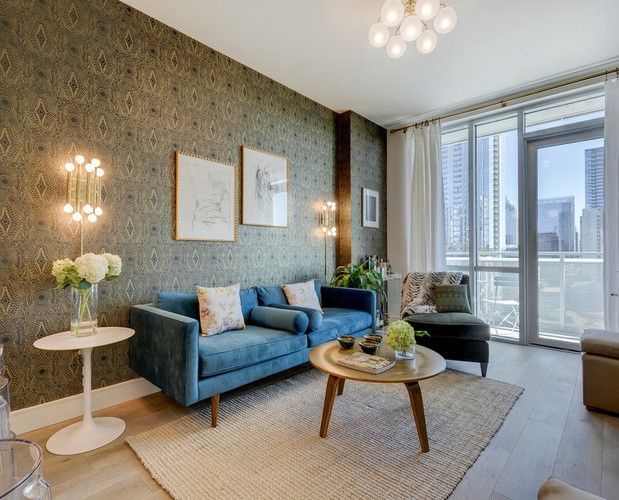 This article orinigally appeared on Houzz.com.
The fact that you have a small space shouldn't mean you can't have big get-togethers. To help you make your space function well for entertaining—while still working for your day-to-day life—here are some of my favorite tips for furniture, styling and even secret crowd control. You can have the night of your life no matter what your home's square footage.
1. Color choices. As with any small space, a compact entertaining area can be made to feel bigger by using lots of light color—especially bright white—on the walls. However, an entertaining space sometimes is better off feeling cozy and lively, rather than airy and minimalist.
Related: How to Tastefully Incoporate Coral in Your Home's Color Scheme 
Don't be scared to embrace dark or dramatic hues on the walls, either as the primary color or as an accent, to help set a more intimate mood. You can also contrast dark or vivid hues with light, pale hues. These often will recede to create an interplay of depths that can make a room feel bigger and more energetic.
Look to the color scheme of your favorite restaurant for ideas, and keep in mind that any hue will look different in evening light than it does in stark daylight. Lay out paint chips and observe how the color reads at different times of the day.
2. Lighting. Speaking of lighting, it's especially important in an entertaining space to have a good lighting scheme that can be controlled to set the right mood. Even in a small space, a single light fixture in the middle of the ceiling can't be expected to do all the work.
Multilight sconces, such as the smart plug-in fixtures shown here, can help add lighting at a face-flattering angle to make your space and your guests look their best. Use dimmable fixtures, or simply include several smaller lamps so you can build up brightness or a soft glow as desired.
3. Accents. Besides lighting, mirrors and lighter-hued accents can help a small space feel pleasing rather than claustrophobic. Items like white picture frames or artwork give the eye some visual breaks, while mirrors extend the sight line.
Mirrors also give people an opportunity to surreptitiously catch a glimpse of another party guest—or simply check for spinach in their teeth.
4. Seating. When entertaining, you'll want to be able to seat a large number of people. Another day, you might want a comfortable place to decompress alone (or even sneak a quick nap). Start your furniture plan with a large sofa, and you'll be ready for both of these scenarios. When it comes time to pack in guests, you can sit good friends shoulder to shoulder on a long sectional, and the rest of the week you can lounge in comfort.
An armless sofa frees up precious inches to squeeze in an extra person or two at the ends if you want maximum seating. You can then add in toss pillows to act as an armrest or backrest as needed.
Alternately, a modern sofa with wide arms like this one will give people a place to casually perch while they chat, or an extra spot to set down a drink or snack. Just make sure to provide a serving tray with edges to catch spills. (A dark upholstery that hides stains doesn't hurt either.)
Of course, a large sofa can fit only so many guests—and some people will probably prefer their own seat. To maximize seating, I like to balance a large sofa with 16- to- 20-inch midcentury modern side chairs. They add a little classic flair without taking up too much space.
You can keep a few in your main entertaining room, or pull some from another room, such as the dining room or even a patio, as needed.
5. Versatile tables. Besides needing a place to sit, your guests will also need space in which to move around, stretch their legs or maybe even dance a little. Avoiding bulky tables and furnishings that block circulation will help make even a small space feel much more open.
Instead of a chunky coffee table, try a leggy option that won't get in the way of an outstretched foot. Even better, use several small tables that can be moved out of the way or rearranged as desired.
In general, having an eclectic mix of seating allows you to tackle different entertaining scenarios, so feel free to break out of the typical matchy-matchy box of the "one sofa, two chairs" living room set. Throwing in a few small stools gives you extra seats or tables as needed, and a high side table can be used as compact dining surface or mini bar. Multifunctional pieces like these give you options, and they can be tucked off to the side when not needed.
6. Dining areas. Although spaces vary, an oval or circular table is usually a good fit for small spaces that may need to accommodate a flexible number of guests. The rounded edges allow you to seat guests without having to bump anyone into a corner. Round tables also make it easier to host an odd number of guests without it looking "off."
As in the living room, using one long bench or banquet mixed with standard dining chairs gives you room to slip in a few extra guests (especially small children) while giving others the option of a solo seat.
Wall sconces also are a great solution to add a little lighting over a small dining table or another key area. Choose one on a swing arm and you can push it up against the wall if you move the table to free up standing room.
Related: Install Wall Scones to Brighten a Small Room 
If you don't have room for a dedicated dining table, a convertible coffee table is a handy solution. They typically fold out into a larger surface, with height-adjustable legs to convert from coffee table to dining table in just a few clicks.