Ramshackle Wallingford Bungalow Gets a Stylish Overhaul
Twin sisters choose a simpler life in the city and get a major upgrade when they downsize.
By Nia Martin September 26, 2017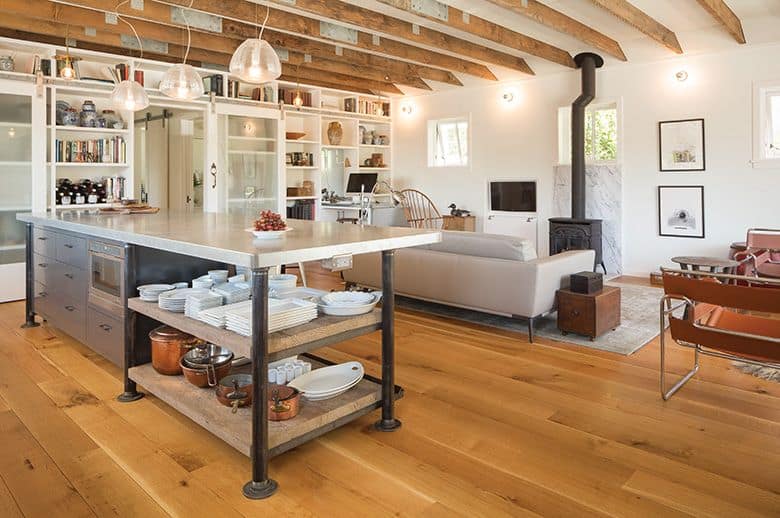 Downsizing doesn't necessarily mean giving up on everything," says Kim Clements, co-owner and one of the creative directors of Wallingford-based J.A.S. Design Build (3600 Wallingford Ave. N; 206.547.6242). "It just means that you curate your life more."
J.A.S. helped transform a rundown 1921 bungalow for Mary Speckart and Melinda Lloyd, retired twin sisters, who did just that. "You start thinking about your footprint and how it isn't necessary to have big stuff and lots of gas bills," says Lloyd on the benefits of paring down. The two sisters carefully selected meaningful pieces from their possessions in separate homes to incorporate into their new shared 1,069-square-foot space (1,369 if you include the porch addition), freeing them from the burden of excess "stuff" in the process. 
Photograph by Alex Crook. A full kitchen that opens to the living space; big windows invite natural light to stream in.
Ten years prior to this project, Speckart and Lloyd had hired J.A.S. to work on their Lopez Island vacation home, which they continue to use. "We always say, if Kim and Joe [Schneider, co-owner of J.A.S.] told us to jump off a cliff, we would do it," jokes Lloyd who, along with Speckart, has formed a close friendship with the husband-and-wife design team. In fact, the sisters' renovated home is directly across the street from the J.A.S. offices.
The close proximity is partly coincidence. Clements and Schneider owned property near the rundown bungalow and had their eye on it. But in previous discussions, the owner had not been ready to sell. When the sisters approached J.A.S., expressing their wish to downsize, the design firm had new incentive to revamp the house from its ramshackle state, and a sale was finally arranged.
Photograph by Alex Crook. The home's accessory dwelling unit in the basement has its own entrance.
The structure now has a modern farmhouse aesthetic, a significant change from its previous unsightly condition. It's safe to say that the property, dilapidated, with trees growing up through the porch, was in desperate need of a makeover. The J.A.S. team envisioned a redesign that was visually appropriate for the Wallingford neighborhood, which Clements notes was traditionally modest and blue-collar. "Aesthetically, we were trying to do something that was an introduction of a home with integrity and a relationship to its place, but not in a nostalgic way," says Clements, "but in an 'oh, that fits' way." 
The home's setting fit the lifestyle enjoyed by the sisters, who eagerly embraced their new surroundings. Fond of the neighborhood's walkability, the two stroll to the grocery store and out to dining favorites, such as Joule and The Whale Wins. They also take advantage of the easy access to the University of Washington, via public transportation, to attend classes. 
In redesigning the house, J.A.S. considered the things most important to Lloyd and Speckart: cooking and entertaining at home, an emphasis on communal spaces, and design and materials that minimize chores and upkeep. Bedrooms and bathrooms are utilitarian.
"I think about how there were lots of rooms [in a previous residence] I didn't use, and so this distills it down to rooms you really do use. It is very small, but it doesn't seem small," remarks Speckart. The sisters say they feel liberated by their simplified surroundings. 
Photograph by Alex Crook. With the exception of the porch addition, the structure maintained its original square footage after redesign.
The remodel enabled a fresh take on a structure that already had good bones. Exposed beams were revealed in the ceiling of the main room—which serves as a kitchen, living and dining space—giving it an airy, rustic appeal. A large, industrial-looking island is the room's centerpiece, frequently enjoyed by the foodie sisters.
Other unique details include a wood-burning stove pipe collar that juts imperfectly to the side to accommodate the ceiling design; a flip panel that hides a flat screen television and removes it as the center of attention in the room; and the doors between rooms are barn-style sliders—stylish space savers.
To refashion the outdoor garden spaces, the sisters engaged the same landscape designer (now semiretired) who worked with them on their Lopez Island home, Paul Repetowski. He designed the low-maintenance beds that flank the front porch and south-facing side of the home, choosing a variety of plants that are in bloom at different seasons. The backyard, also low-maintenance, has a gravel surface and sitting area with grill. 
Photographs by Alex Crook. From left, A glass door makes it easy to keep track of the refrigerator's contents while an adjacent sliding door separates the kitchen from the laundry area; hough pictured here as a set, these classic Wassily chairs were purchased several years apart; sliding windows offer a view of Wallingford Avenue; A no-fuss gravel backyard provides a space to socialize with shaded sitting area and grill.
A bonus for Lloyd and Speckart is the finished basement accessory dwelling unit, complete with combined kitchen/living area, bedroom, spacious bath and its own entrance. It enables the possibility of housing a live-in caregiver—allowing the sisters to age in place—but until then, it's a way to offer affordable rental housing in the city, where it's become increasingly scarce. 
But a home doesn't have to be all function and practicality. "I think what's great about this house is it's deceptively fun for a party," says Lloyd with a laugh. Indeed, the home has set the stage for more than a few late-night shindigs. The main room allows for mingling and movement, and large windows slide open onto a generous porch for socializing on warm evenings. 
When they're not busy throwing dinner parties, the sisters enjoy sharing the space and each other's company. "Living in the same city, especially going through all of these life changes, has been really nice. It's important to have someone very close while going through those things," says Speckart. The sisters have managed to create a home for themselves in the city while also finding community in a neighborhood that's growing and changing all the time.