Seattle Artifacts: Crime, Politics and Pinball
Competing factions resorted to bombs during Seattle's pinball war
By Brad Holden October 6, 2022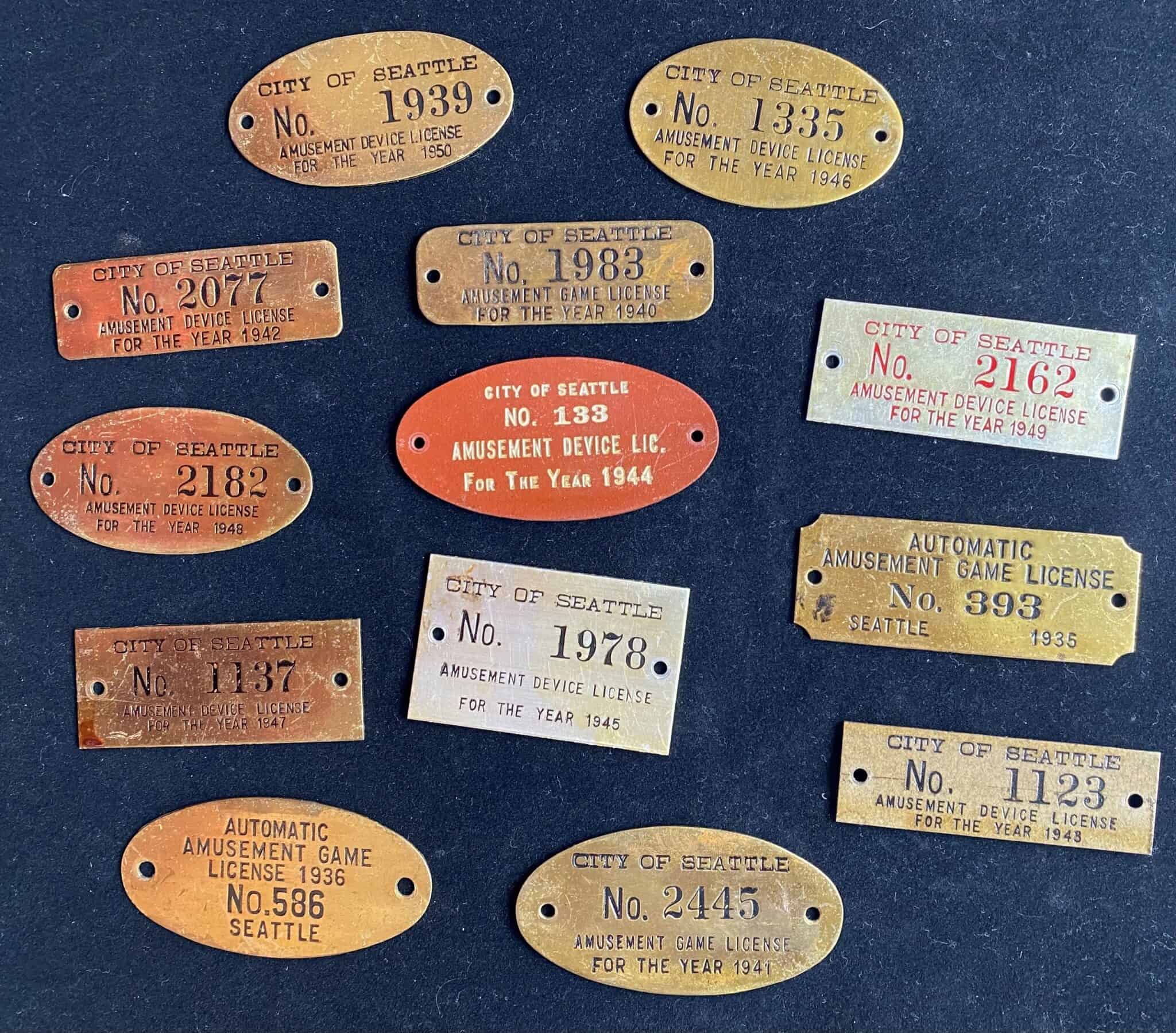 Back in the 1950s, Seattle was rocked by a series of late-night bombings that were connected to regional crime syndicates battling for control over the city's lucrative pinball market. In this article — my first for "Seattle" magazine — I take a look at how a small trove of brass amusement licenses discovered during a recent home remodel are related to this relatively unknown chapter of local crime history.
It all started when local builder Kevin Hansen was recently hired to help with the extensive remodel of an older house in West Seattle. Hansen was removing some of the home's original cabinetry when he uncovered a small collection of brass amusement device licenses from the 1930s and 1940s. As a local historian, people frequently reach out to me with questions about their discoveries, as was the case here when I was sent a photo of Hansen's find. Despite their innocuous appearance, these licenses represent quite a sordid piece of Seattle pinball history.
Coin-operated pinball machines were first introduced in the early 1930s. These early pinballs were much different from the ones we are familiar with today. The most important difference is that early pinball machines did not have flippers.
Rather, the spring-loaded plunger would propel the ball into the upper playfield, and except for some gentle nudging of the machine, players had no control over the ball's final outcome. Simply put, early pinballs were gambling devices played as games of chance where cash and prizes could be won depending on where the ball landed.
The possibility of a money payout made pinballs extremely popular and they soon became quite profitable for those who owned them. Profiting most from pinballs, though, was the city of Seattle, as tax revenue and licensing fees generated from these machines helped keep the city coffers nice and full.
In exchange, each pinball operator would be issued up to a hundred "amusement device licenses." It was a batch of these licenses that was recently discovered during the West Seattle remodel. These licenses were expected to be attached to the front of each and every pinball machine and jukebox that operated within the city limits.
By the 1950s, organized crime had sunk its tentacles into the Seattle pinball industry. At the time, pinball machines were typically found at taverns, cigar stores, bowling alleys and penny arcades. The owners of these places would allow pinball operators to run their machines there in exchange for an even split of the revenue. Some businesses were more profitable than others, thus making them highly coveted. From this, two crime syndicates emerged, jockeying for control over the city's top pinball establishments.
The first group to form was the Amusement Association of Seattle (A.A.S.), which started as a trade organization in the early 1950s. A man named Fred Galeno was listed as secretary-treasurer of A.A.S., though it was well known that he was the group's de facto leader.
Galeno maintained a close relationship with local Teamster's Union leader Frank Brewster, and the alliance between A.A.S. and the city's most powerful union gave the group almost monopolistic control over local pinballs. Many of the city's top taverns formed exclusive agreements with this pinball organization in which they only carried amusement devices from licensed A.A.S. operators.
This consolidation of Seattle's pinball traffic didn't sit well with the city's other top gambling syndicate. Colacurcio Brothers Amusement Inc. was one of the city's largest pinball and jukebox operations.
Its two owners, William and Frank Colacurcio, were known for using "strong-arm tactics" to convince property owners to carry their machines, though this was now becoming increasingly difficult thanks to A.A.S.'s growing dominance. It didn't take long for tensions between the two groups to quickly escalate, resulting in an alarming series of events that would soon be rattling the entire city.
The first incident happened in the early morning hours of Oct. 11, 1957, when an explosion destroyed the Century Pinball Distributing building in the Queen Anne neighborhood. The business carried one of the city's largest inventory of pinballs and jukeboxes, all of which were destroyed by the blast. Police determined that dynamite had been used.
The bombing spurred a great deal of debate at the City Council level regarding the possible need for tighter controls over the city's pinballs, eventually prompting Seattle Mayor Gordon S. Clinton to sign a pinball and jukebox act, which tightened regulations on such devices.
This did little to deter things, though, as the Pioneer Card Co., which sold cards and gambling equipment, was the site of the next bombing in January of 1959. Once again, dynamite had been used as the explosive.
A year later, in 1960, Fred Galeno's car was detonated in front of his home on Queen Anne hill. Galeno, who ran the A.A.S., was in bed at the time of the bombing and therefore escaped any injury. The FBI immediately launched an investigation and the remains of Galeno's car were sent to a special forensics lab in Washington, D.C.  In Seattle, a squad of six detectives was assigned to the case.
A month later, Gordon Newell – a nominee for Seattle mayor – made a public statement criticizing Clinton's handling of the pinball crisis. Three weeks later, Newell's sports car was bombed in front of his home during the middle of the night.
The fact that city elections were just a few days away added an extra layer of terror to the whole incident.  There was speculation that the bombings were intended to embarrass Mayor Clinton, Newell's political opponent who had been responsible for enacting tough pinball regulations.
The last bombing to take place happened on July 16, 1960, when the Michael Distributing Company – a pinball and vending machine firm located on Elliott Avenue – was destroyed in a late-night explosion. As with the other bombings, dynamite had been used as an apparent means of intimidation.
In 1961, it was reported in local papers that an eyewitness to the first bombing from 1957 had come forward and reported the suspect's identity to the police. However, the three-year statute of limitations for "injury to property" had already passed and the police were unable to pursue the case, nor were they able to release any names. To this day all five of the bombings officially remain "unsolved."
As far as the brass licenses that were recently found go, it's unknown if any of them were directly involved in this previous "pinball war," though they certainly played a role in this era of Seattle history when pinballs dominated the local headlines.
Brad Holden is an amateur historian and is the author of two books: "Seattle Prohibition: Bootleggers, Rumrunners and Graft in the Queen City," and "Alfred M. Hubbard: Inventor, Bootlegger and Psychedelic Pioneer." Check out his Instagram page @seattle_artifacts, for more interesting tidbits about Seattle's history.