Windermere's W Collection: A High Point Market
By Rebecca Ratterman December 2, 2016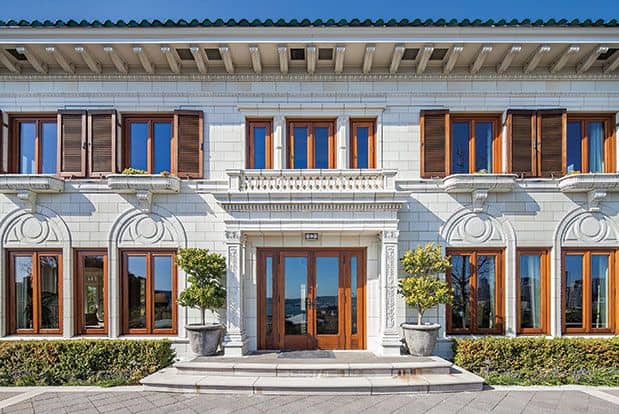 It's no secret that Seattle home prices are rising dramatically. These days, even a relatively modest Seattle Craftsman can command a price topping $1 million. But the growth of the city—particularly in the tech sector—soaring incomes among some locals and the influence of international buyers have combined to increase demand in the luxury market. 
It's this market that was the impetus behind the recent launch of Windermere Real Estate's new ultra-luxury arm, the W Collection. Spearheaded by Leigh Canlis—who brings a familiarity with the luxury market from previous roles with Canlis Glass and JPMorgan Chase—the W Collection is a new real estate division catering to clients looking for homes in the $3 million-plus range. "Windermere is one of those companies that has been around for years," says Canlis. "But there is a new market and we needed to create an upper tier division to cater to the uber luxury clientele. I was brought in because I know this market so well and to make the W Collection stand out." 
A high price tag isn't the only criterion for homes featured in the W Collection. "There needs to be some pizzazz, a wow factor," says president John "OB" Jacobi, son of John Jacobi, who founded the company in 1972. 

Images by: Matt Eddington
Above: Traditional furnishings complement the home's architecture. Below: The adjoining lot was purchased to accommodate a pool and cabana
QUEEN ANNE MANSION
PRICE: $10,450,000 
SQUARE FOOTAGE: 6,820; 3 bedrooms, 3.75 baths 
LOT SIZE: 0.43 acre 
COMMUNITY: Queen Anne 
PROPERTY TAXES: $86,545 (2015) 
YEAR BUILT: 1933 
LISTED: April 2016 
KEY DETAILS: Secluded in-city compound with views of the Seattle skyline and Elliott Bay; an elevated pool plus hot tub with an adjoining 530-square foot-cabana, outdoor kitchen space and a fire-lit rooftop patio seating area. The home was commissioned in 1928 by James A. Gibbs, city planner, local historian, politician and founding member of the Puget Sound Maritime Historical Society, and completed in 1933. 
Canlis notes that W Collection clients are likely to be much more understated than the properties they're shopping for. "For the most part, Seattle millionaires look like everyone else up here. They want to stand out for their accomplishments rather than their affluence," Canlis says. "That's what is different about Seattle. You never know who you're talking to here, and that's fun." 
Jacobi predicts a bright future for the luxury home market. "Our local economy is super strong, tech jobs are creating some pretty wealthy people pretty quickly, so price points are going to continue to grow. Seattle [may] have this issue forever."  

Images by: Nolan Green
This $8 million property's pool, hot tub and multiple patio spaces offer no shortage of ways to enjoy the backyard of this north-end Mercer Island home
MERCER ISLAND MANSION
Above: 22-foot ceilings top off floor-to-ceiling windows in the living room with views of Lake Washington. Below: The home's luxe features include a wine cellar, dog run and sauna
PRICE: $8,480,000 
SQUARE FOOTAGE: 8,579; 4 bedrooms, 4 baths 
LOT SIZE: 0.44 acre 
COMMUNITY: Mercer Island
YEAR BUILT: 1992  
LISTED: June 2016 
KEY DETAILS: 65 feet of lakeside waterfront, a wine cellar, pool and hot tub combo, sauna, three fireplaces, a dog run, and views of Lake Washington and West Bellevue; dock space for a yacht; 22-foot ceilings in the living room; three kitchens (the main kitchen, full kitchen in basement and a butler's kitchen); custom-stained white oak floors cover the first floor, and the master suite's walk-in closet includes two washer-dryer sets (one for him and one for her), with drying closet.