Seattle Town Houses Are Going Green
For about $1 million, you can move into a new, eco-friendly town house
By Shannon O'Leary June 4, 2019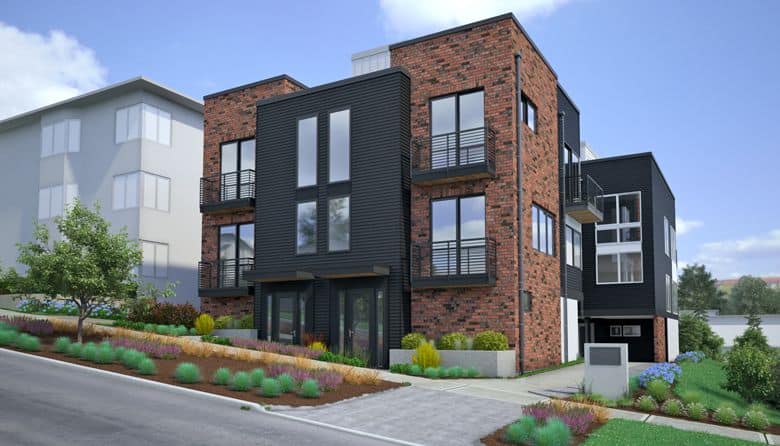 Town houses offer most of the benefits of traditional single-family living (no pesky upstairs neighbors) minus the burdens (time-sucking yard maintenance). And, in Seattle, lots of new town houses are turning up green. According to Kelsey Brokaw, Built Green coordinator for the Master Builders Association of King and Snohomish Counties, 70 percent of new single-family homes, row houses and town houses were Built-Green certified in 2018. Built Green and LEED are the main gatekeepers of verifiably green homes here, giving points for a laundry list of ecologically wise achievements—from energy-saving appliances to water-sparing landscaping. Our spotlighted town houses are targeting four (out of five) Built Green stars or LEED Gold status, and (when finished) a listing price in the neighborhood of $1 million.
QUEEN ANNE
1202 Fifth Ave. N
The Overview: The three-story Ascent includes five elegant brick-clad town houses, each with three bedrooms and three baths, sited on a sweet corner on Lower Queen Anne, near Metropolitan Market, Caffe Ladro and Seattle Center and just down the hill from Kerry Park.
Inside and Out: Thanks to the energy-use improvement of 20% over code that's mandated for 4-Star certification, there are lots of floor-to-ceiling windows in these town houses, making the most of Seattle's natural light, with main living spaces reaping that bright reward. Each town house has a sleek open kitchen stocked with luxe Bosch appliances and subtle earth-tone cabinetry, and a floating staircase ascends to the third-floor master suite and another bedroom, which could also be used as an office or nursery. Second and third levels boast balconies, but it's the rooftop deck that offers those oooooh-inducing unobstructed views of water and city lights, and there's also a built-in wet bar.
The Details: From $1.095 million Built May 2019 • 1,549–1,628 SQF $700-plus per SQF • 3 beds, 3 baths • Attached garage • Walk Score: 86
Architect, Builder: Cone Architecture, Gamut360 Holdings
Listing Agent: Melissa McMurray, Lake and Company Real Estate; 206.949.6944; seattle-realtor.com

IN DEVELOPMENT: These modern Columbia City town houses (top) will be completed in July while the Craftman-style town houses (bottom) on Capitol Hill have an August completion date; both projects feature rooftop decks with views. Renderings: B9 Architects (Columbia City); Sage Design, Inc (Capitol Hill))
COLUMBIA CITY 
3912 S Hudson St.
The Overview: These five three-story town houses in Columbia City, near a PCC market, Tutta Bella pizzeria and Rudy's Barber Shop, and less than a mile from light rail, will feature two- and three-bedroom units with two or three baths and rooftop decks with Instagram-worthy outlooks on the city and Mount Rainier.
Inside and Out: Hardie panels with handsome woodsy accents and a rain-screen system with VaproShield waterproofing, wrap these exteriors. Interiors are equally eco-smart, with heat-recovery ventilators that optimize fresh air intake; WaterSense plumbing fixtures, and paints and finishes with zero VOCs (volatile organic compounds). Appealingly minimal design elements will rule inside, from frameless glass walls and curb-less showers to stainless-steel appliances and Bellmont cabinetry. Outside, waterwise permeable pavers and native and drought-tolerant landscaping will reign.
The Details: From $849,000 • Completion: July 2019 • 1,438–1,551 SQF • $591–$595 per SQF • 2-3 beds, 2-3 baths • Covered parking • Walk Score: 94
Architect, Builder/Developer: B9 Architects, Orcas Homes with Flanigan Group Development
Listing Agent: Ed Flanigan, Flanigan Group/Keller Williams; 206.669.6302; flanigangroupinc.com
CAPITOL HILL
808 16th Ave.
The Overview: Although located on the hipster hill, by Seattle University and near 12th Avenue's heady mix of bars and restaurants, these four three-story town houses (all with four beds and baths!) will have facades that sensitively echo the Craftsman-style neighbors on this street. (This fall, the developer is adding six more 4-Star Built Green town houses to Capitol Hill at 124 17th Avenue Ave. E.)
Inside and Out: Sure, all the high-efficiency (super-insulated building envelope, ductless heating, tankless water systems) boxes are checked, but style wasn't sacrificed to sustainability. The exterior's hardy Hardie panels are to be spiked with rich cedar accents, and interiors warmed by a gas fireplace and sparkle with quartz countertops and Moen and Kohler fixtures. And cedar-lined rooftop decks come plumbed with water and gas, and views of the city and Lake Union.
The Details: From $1.1 million • Built August 2019 • 1,874‒2,091 SQF $526‒$586 per SQF • 4 beds, 4 baths Attached garage • Walk Score: 92
Architect, Builder/Developer: Sage Design and Board & Vellum; Sage Homes Northwest
Listing Agent: Olivia Lowell, Sage Homes Northwest; 425.272.9898; sagehomesnw.com 
Editor's Note: Homes shown may have been sold.
Sign up and get Seattle's best events delivered to your inbox every week.