Seattle's Classic Burgers
Why we love our old-timey burger joints.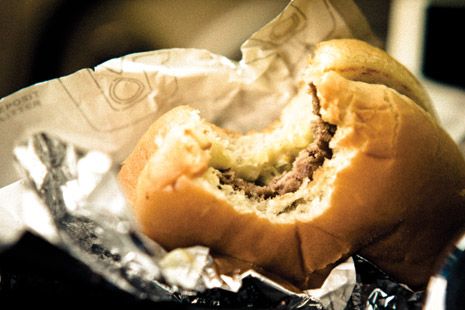 Wistful remembrances, stories told and retold ("Back when I first met your dad")—hanging out at these classic burger places colors the memories of friends, parents and grandparents. Dick's, Burgermaster and even the comparatively young Red Mill are Seattle burger icons, beloved for far more than just fries and shakes.
Dick's Drive-In
When the big city starts to feel cold and anonymous, the star-dotted "I" in Dick's retro orange sign promises a welcome return to old-school Seattle. You can count on affordable prices—a Dick's Deluxe ($2.70), extra-crisp fries ($1.50), hand-dipped shakes and root beer floats ($2.15)—and friendly faces working the counters. Open since January 1954, Dick's is doing something right: This fall they opened the sixth Dick's Drive-In in Edmonds.

Burgermaster
Open even longer than Dick's (the original University of Washington location opened in 1952), Burgermaster does more than just burgers at its five diner-like locales: pancakes, omelets, Dungeness crab melts, fish sandwiches and sundaes are on offer. But those burgers are tasty, made of grass-fed beef, and at the Bellevue, Aurora and Mill Creek locations you can drive up and have your order delivered to your car, where they'll clip the tray to your window. If that isn't a direct hit of nostalgia, we don't know what is.
Red Mill
With just 18 years in the burger biz under their belts, John and Babe Shepherd are relative youngsters in the icon category. But the favorite burgers of a whole lot of Seattleites are found at Red Mill. Maybe it's the tower of crisp bacon sizzling away on the griddle, maybe it's the "mill sauce," maybe it's the dozen-plus flavors of shakes and malts, or maybe it's the onion rings, but Red Mill knows how to make it work, especially the Verde burger. We can't wait to taste the fish 'n' chips the Shepherds have added to the menu at the latest Red Mill, which opened in October in the old Totem House space across from the Ballard Locks.