This New Downtown Seattle Gallery—with Art Jewelry Top-of-mind—Is Worth a Visit
Bezel & Kiln is an oasis of unique finds; from over-the-top necklaces to timeless men's watches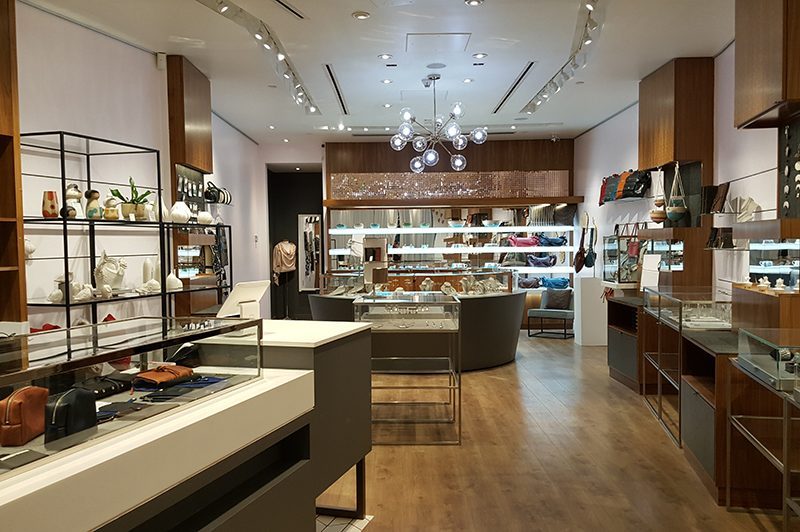 It should not come as a surprise that Seattleites have a fascination with the eclectic. Whether you are staring at "Echo" at the Olympic Sculpture Park or admiring colorful paintings at local coffee shops around town; our fair city is filled with eye-catching and subtly avant garde artwork.
This point of view is something that Marlo Miyashiro, co-owner and managing director at The Handmade Showroom, understands all too well and embodies in her new gallery Bezel & Kiln. The hand selected inventory includes contemporary art jewelry, accessories and fine housewares. "We have curated a range of works by talented artists that include pieces meant to be worn daily as well as one-of-a-kind showstoppers that appeal to the art collector in all of us," says Miyashiro.
The name for the new venture is rooted in craft terminology: "bezel" is a ring of metal surrounding a stone in a piece of jewelry while "kiln" is a high temperature oven used by potters.
Prices range from $30 ceramic ring dishes to $3,000 one-of-a-kind necklaces made with vintage coral and diamonds. And you won't be able to find these artful wears around town—Miyashiro says that over half of the artists have never shown in Seattle.
The decision to open a new boutique comes at at time when retail in the Pacific Northwest is undergoing a state of change and downtown Seattle has seen its fair share of ups and downs this year. A flood of new national brands, including The North Face (in the space formerly occupied by H&M) and Universal Standard, have moved in while shoppers bid adieu to Barney's New York and Butch Blum, which quietly closed its doors in late summer.
"Downtown Seattle is in transition in many ways and I believe it is headed toward a renaissance of art and culture," says Miyashiro. "Support and appreciation for the arts and the artists that create these intimate experiences is real and we are very happy to be a conduit for that connection."
Seattle shoppers have an appetite for local talent, something that Miyashiro clearly possesses, and intuition to boot. Her own hand-fabricated sterling silver jewelry has sold in more than 200 galleries and she is the local organizer for the Seattle Etsy team.
There are options for the guys, too, including watches from Kickstarter sensation Elliott Havok, leather goods by Dunole and portable metric bike tool sets from Uphill Designs.
Bezel & Kiln is located on the second floor in Pacific Place in downtown Seattle.