Seattle's New Mobile Fashion Truck Trend?
Board the J Project bus and get to shopping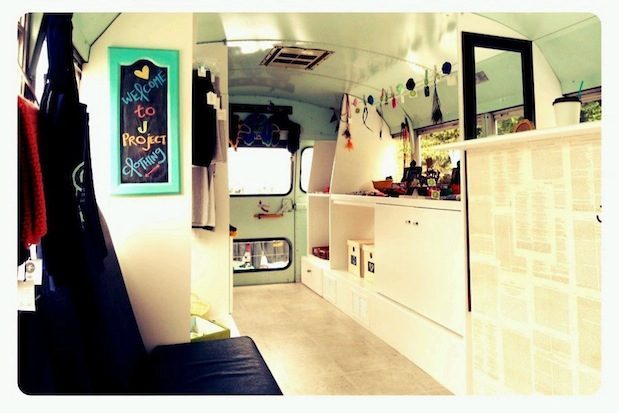 We have a bit of a joke-that-is-not-actually-a-joke around the office about declaring something a "trend": You can't call it one until you find three examples. So naturally, since news broke a few weeks ago that the city's first "fashion truck", The Kippy Ding Ding, is now roaming the streets (more here), I've been on the hunt for two more.
Well, what do you know, Kippy has company:
Closet Space: Further afield but worth a scout, the Closet Space truck makes it debut this weekend in the April Fool's parking lot on Waters St in Port Townsend. Owner Rosie Itti (who has been holding pop-up sales in town for the past year in preparation) has vamped up a 2011 Chevy van and now travels with her selection of new clothing and bags in tow. Stalk them here on Facebook.
J Project Clothing: Jamie Marie has been parking her charmingly revamped J Project Clothing short bus at the Shoreline Farmer's Market on Saturdays since May, selling screen-printed tops and handmade scarves. As of now, Marie has dates scheduled through October; follow J. Project here for updates.
Bingo. We have a trend, people.
Photos courtesy of Closet Space and J Project Clothing