Tanakasan, Assembly Juice and Coffee: New Details on Tom Douglas' Assembly Hall at Via6
By Seattle Mag May 2, 2013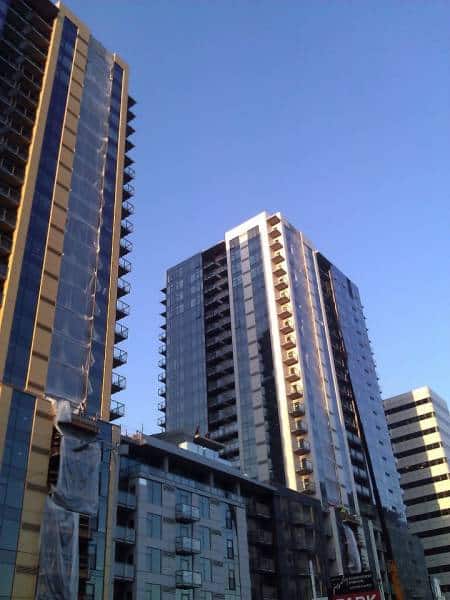 If you thought Tom Douglas' recent restaurant domination of South Lake Union meant the big guy was done with Downtown, think again.
Tanakasan, an Asian American fusion restaurant, will serve as the cornerstone of Tom Douglas Restaurants' 10,000 square foot Assembly Hall (a mixed-use space at the base of the new Via6 Apartments, on the corner of 6th and Lenora, which was once being called Grange Hall) when it opens June 10th.
Named for Eric Tanaka, Tom Douglas Restaurants' executive chef and partner (but headed by Brian Walczyk, who's moving over from his head chef gig at Brave Horse Tavern), Tanakasan recently hosted a few pop-up dinners to try out the concepts before the doors open next month. The few teasers off the future menu I've seen include ramen, rice and egg bowls, robata skewers and "charbroiled mochi cakes." Like Palace Kitchen, it looks like Tanakasan will have a strong bar focus: an extensive sake list, and a variety of Northwest and Japanese beers. Also: outdoor seating with fire pits!
In the remaining (ample) square footage, the TDR crew has plans for two firsts: Assembly Juice and Coffee, where, you guessed it, you can get fresh-squeezed juices and smoothies, and espresso and drip coffee (a custom roast from Starbucks) and cozy up to the fireplace. To eat: house-baked coffee cakes and caramel-topped pull-apart cinnamon pecan buns (aka Grandma Douglas' schnecken) sound awfully tempting. Or wood-oven baked egg and cheese pockets, made with Dahlia Bakery's yeasted dough.
There'll also be a Hash Bar with "plates of dijon poached eggs, crispy potatoes, and pastrami hash or Tanaka family bacon fried rice with crispy shallots and fried egg." This all sounds, frankly, awesome.
And finally, look for Home Remedy, TDR's first foray into the burgeoning specialty grocery market. Along with wine, beer, gourmet cheeses, olive oils and the like, Home Remedy will offer a prepared foods tour-de-Douglas: You'll be able to pick up Seatown pot pies, Etta's Dungeness crab cakes, Brave Horse's pretzels, Lola's spreads, Palace Kitchen's cheese plate. Plus Serious Pie pizza by the slice, sandwiches, salads, and what I'm sure will be an epic salad and antipasti bar. Of course you can purchase the Dahlia Bakery breads, cookies and treats of your liking. The Tom Douglas bread bakers are relocating to Assembly Hall from SLU, so you'll always get the freshest loaves around.
Seattle's best events delivered to your inbox