Close Encounters: Where to go to Get Out of Town
Convenient trips are becoming increasingly popular
By Seattle magazine staff September 28, 2021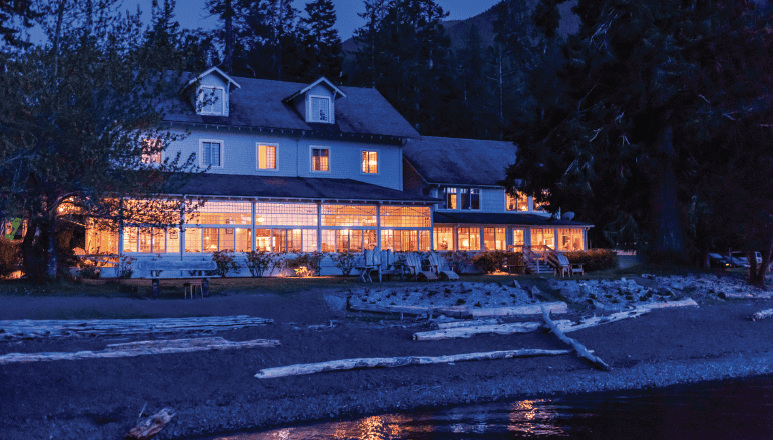 Though Americans remain cautious about travel during this time of coronavirus, hitting the road for a quick getaway during the shoulder or off season can mean fewer crowds, lower prices and a more relaxing vacation.
While travelers have increasingly delayed international and even longer domestic trips – a survey by Destination Analysts fi nds that Americans still feel "good" about travel, though they're also "anxious, nervous and worried" – many are opting for quick, long-weekend-type getaways easily accessible by car. That same study finds that more than 40% of Americans recently took an overnight trip.
Here are a few of our favorite quick breaks, including a look at West Seattle. While including the neighborhood may not seem exotic, there are plenty of reasons to become a tourist in your own backyard. — Rob Smith
Island Time
A local's guide to West Seattle Island
By Ellen Meny
There's a charming island near downtown Seattle that has fine cuisine, vintage shops and one of the best sunset viewing spots in Washington. Its name? West Seattle.
I've lived in West Seattle — or as it's now known to some of the locals, West Seattle Island — for about three years. And while I have nothing on the folks who've lived here for upward of 20, this little slice of Washington has captured my heart. I believe there's a richness of community here that's only deepened since our beloved bridge was taken away.
Lora Radford, executive director of the West Seattle Junction Association, agrees. She's lived in West Seattle for more than 20 years, and her car was one of the last to cross the bridge before it was shut down 18 months ago. But she says this severing has only made the neighborhood stronger
"I think we've connected as a community more than ever before for the last 16 months," Radford says. "For me, the special sauce of West Seattle is our community members and our small businesses as well."
Despite the lack of a bridge and subsequent added difficulty of getting here, there's a wealth of things to do on our beloved island, and our small-business owners are hungry for mainlanders to come and visit. If you want to have the perfect West Seattle day, here is my humble itinerary.
However you get to West Seattle, be it car, bus, water taxi or Mary Poppinsesque parasol, make sure your fi rst stop is
Bebop Waffle Shop in the North Admiral neighborhood, the oldest neighborhood in West Seattle. Right on the corner of California and Admiral, this cozy cafe is the perfect brunch spot to help fuel your adventure. Named for owner Corina Luckenbach's beloved late dachshund, Cori and her crew serve up local coff ee and, of course, waffles. There's quite the selection, from the Kate McKinnon — a waffle topped with bananas, honey and peanut butter — to the chili & cheddar, a savory cornbread waffl e slathered with chili and cheese.
The most popular waffle, however, is the rainbow madness. Beloved by adults and kids alike, this waffle has Fruity Pebbles cooked into it and is covered with bananas. Plenty of caff eine and sugar to kick start your day.
If you're able to take your eyes away from your waffle for a moment, you may notice the back of the cafe is a veritable garden. That would be the Flower Lab, a florist and plant shop that shares space with Bebop's. It's pretty hard to stop by for a waffle without adopting an adorable little houseplant as well.
From Bebop's Waffle Shop, amble on down California Avenue toward Alaska Junction, also called the Junction because West Seattle is the center of the universe and no other junctions exist. The leisurely walk to the Junction will help you to both digest your breakfast and allow you to peruse some local shops. There's gift shop Alair and its sister, Dylan Clothing, which sell some pretty excellent West Seattle-centric merchandise. If you truly want to commemorate your West Seattle visit, you can buy a West Seattle Island shirt, or a keychain bearing this evocative phrase: F*** Yeah, West Seattle. I never claimed we were a humble people.
For the vintage kitsch lovers, farther down California is Doll Parts Collective, a vintage clothing boutique that opened in 2020. From chunky '80s necklaces to delicate swimsuits from the 1940s, there's something for even the most discerning of fashionistas.
Once 5 p.m. hits and you're thirsty for a predinner tipple, locate the alley behind B's Restaurant and fi nd your way (I won't ruin the challenge) into The Alley, a speakeasy that truly conjures up images of glamorous bars from the Prohibition past. The Alley serves cocktails from pre-Prohibition all the way to the present, but the real highlight is the robust custom cocktail program. Bartenders delight in using house-made liquors — like blueberry lavender coconut liquor — to concoct drinks customers love. They don't mind putting on a show with a flaming drink once in a while, either. And if you visit on a Sunday, you'll get to enjoy a live jazz band that brings down the house.
Once you've worked up an appetite, cruise on to Beach Drive and visit classic Italian restaurant La Rustica. Opened in 1996 by couple Giulio and Janie Pellegrini, it serves cozy Italian classics based on family recipes. I recommend the linguine di mare, a pasta dish with bright, spicy tomato sauce and a collection of shellfish. The interior of the restaurant is warm and charming, but one of my favorite parts is the patio. It looks like your friendly neighbor's patio dining area, and I say that with immense affection. The patio is hidden behind a trellis woven with flowers, and is just homey enough to help you settle in for a delicious meal. You also have a lovely water view across Beach Drive, which is a herald of things to come.
The best way to end a West Seattle day is with a sunset, but our relationship with sunsets is a bit strange on the island. Usually, the most dazzling sight isn't the sunset itself, but the way the light reflects off  downtown. On a beautiful clear night, the sight of the city's buildings flashing purple and pink is a breathtaking sight.
Thankfully, West Seattle is ripe with spots to appreciate the golden hour. If you'd prefer to stay on land, I'd recommend strolling along Harbor Avenue and stopping by Luna Park, a pier that's the last remnant of Seattle's late great amusement park. According to HistoryLink, about once a decade, the tides around the park sink to their lowest levels, and only then can you see the pilings that once supported the facility.
However, to truly enjoy both the sunset and the downtown view, head to Alki Kayak Tours at Seacrest Park and buy tickets for the Alki Kayak Tours Sunset Kayak Tour ($89 per person). Just before the sun begins to dip below the horizon, your friendly guide will help you out on the water, teach you the basics of kayaking and lead you on a gorgeous exploration of Elliott Bay.
You'll enjoy a guided tour of the bay, learn about West Seattle history, see local nature and experience the best of both worlds: a sunset on the water, and the glorious pink shine of downtown Seattle as the sun refl ects off  the buildings' windows. It's a breathtaking sight and the perfect way to end a day on West Seattle Island.
After this day, you should leave the island full, happy, in possession of several new items of clothing and smelling faintly of the waters of Elliott Bay.
Resurrecting An Old Seminary

The Lodge at St. Edward State Park in Kenmore offers a convenient staycation
By Natasha Dillinger
Lushly wrapped in 326 acres of forest and lawns, the new Lodge at St. Edward State Park feels like a distant getaway while resting only 30 minutes from downtown Seattle in Kenmore. Locals can enjoy a staycation without venturing too far from home, while ample outdoor activities that allow for social distancing will appeal to out-of-town visitors as vaccination rates increase and travel resumes.
Opened in 1931 as a seminary to train future priests, the lodge building was designed by renowned Seattle architect John Graham Sr., whose firm was also responsible for landmarks like the Space Needle and the iconic Bon Marché department store, which later became the Macy's Seattle flagship store and is now an Amazon office space.
The Catholic Archdiocese sold the property to the state in 1977 for transformation into a park, but the building entered a long hibernation phase. Costly repairs and some community concern about public access prevented would-be developers from rebuilding the space for more than 40 years. Daniels Real Estate, whose projects include restoring landmarks like the Starbucks Center and Frye Art Museum, inked a 62-year lease with Washington State Parks. The resulting $57 million multiyear renovation culminated in a May 2021 opening.
Drop your car and look skyward where the original bell greets you in its ornate tower. There is currently no public access to the tower, although personalized tours may be offered in the future. Most public areas are accessible to guests using mobility aids, with the exception of rooms in the former nuns' quarters that require mounting a few stairs. There are also a handful of specifically ADA-accessible rooms that can be booked through the standard reservation portal.
After a quick check-in, head up to one of 84 guest rooms or splurge on a suite. Former dormitory rooms were combined two-to-one to create unique spaces that maintain several of the original features, including door frames and windows. The decor has
a retro vibe with faux rotary phones and architectural renderings of the building on the walls. Take a quick cat nap on the soft beds before exploring the building or freshen up with bath products containing notes of rose and black pepper.
Amateur sleuths will enjoy scouting out QR codes in the long hallways. A quick scan with your phone reveals short anecdotes or videos with details like the location of the attic where Macklemore and Ryan Lewis filmed a music video.
Descending back toward the main floor, stroll past the reception desk down a hallway aglow with natural light. The museum-like walls feature art by local artists, much of which is from the private collection of the developers, Kevin and Mary Daniels. As wedding celebrations resume, it's not difficult to imagine a bride dramatically backlit against the tall windows as she gazes out on a lawn full of reception-ready guests.
If you haven't made an advance reservation, put your name on the waitlist for the Cedar + Elm Restaurant. The line of diners eager to taste the Pacific Northwest-centric cuisine gets long. Sip a handcrafted cocktail at Father Mulligan's Heritage Bar next to the entrance while you wait, or head downstairs to the Tonsorium, the former seminary barbershop where a unicorn greets you at the bar. Several elegant mocktail options, often missing from fine dining menus, will appeal to those who choose not to consume alcohol.
In the seminary's heyday, nuns fed students with a focus on quantity over quality. Fortunately for modern diners, the dining hall has transformed into a restaurant with a James Beard award-winning chef armed with an apiary, an on-site garden and a network of local food purveyors. A new restaurant opening during the pandemic seemed to provide a ray of sunshine on a recent visit. We watched old friends reunite on the patio as they toasted to finally being able to taste all the appetizers without wondering who would finish them.
Shortly after its opening, the budding foodie destination's menu included highlights like seared scallops on a bed of roasted rhubarb and celery root puree, and Okanagan short ribs with foraged mushrooms and beet mustard. Dessert options like a Pavlova with passion fruit curd and berries offer a sweet end to the meal. Servers work hard to make young diners feel welcome. Think off-menu chocolate milk and a giant bowl of crispy hand-cut steak fries.
Merely crossing the lawn at the lodge's western entrance gives you access to the park's 71 trails. Trek or bike a half mile down the Seminary Trail to the tranquil beach. A shaded shoreline makes it easy to stay awhile; perhaps bring a picnic and a few sand toys for the kids. Guests also have the option of borrowing recreational equipment from the lodge such as complimentary adult mountain bikes. Lawn games like bocce ball and giant Jenga are available.
The impressive playground is a local favorite, meaning it often gets busy, especially on sunny afternoons. Young guests can skip the crowds and enjoy first dibs on the wooden towers during an early morning or pre-bedtime play session while their parents sip coffee made on the in-room Nespresso machines.
The lodge management respects and takes great care to appreciate the park's standing as a community space rich with nostalgia. With that in mind, plans are in the works for park ranger tours, live music events and chef-led culinary adventures as small group gatherings return.
Perhaps the Latin words inscribed above the Vita Nova Spa's entrance describe the lodge's ethos best: "Pax intrantibus, salus exeuntibus," or "Peace to those who enter, good health to those who depart."
The Lodge at St. Edward State Park: 14477 Juanita Drive N.E., Kenmore. Rooms during weekends start at $400 per night for double occupancy. Lower rates are available for midweek stays in the shoulder season or on last-minute bookings when available.
More Than Apples
Wenatchee, Chelan County's largest city, contains a surprising mix of fun, food and outdoor activities.
By Rob Smith
You may know wenatchee as the "Apple Capital of the World." Or perhaps as the "Buckle of the Power Belt of the Great Northwest,"  a nod to the hydroelectric dams on the Columbia River, which splits the city of Wenatchee from East Wenatchee.
You may not know of the inviting coffee shops, the charming Pybus Public Market, activities ranging from mountain biking, hiking and indoor rock climbing at the popular Riverfront Rock Gym, or the Ohme Gardens' alpine meadows and evergreen pathways.
Just two-and-a-half hours from Seattle, Wenatchee – the seat of Chelan County – is the perfect spot for a relaxing respite from the cacophony of city life.
Start the day by enjoying the house-made pastries and local art at Mela Coffee Roasting Co.'s The Café or visit Little Red's Bakery & Espresso, a hipster, 1940s-influenced café in a vintage Airstream. From there, hit the Pybus Public Market and check out the variety of downtown shops, including The Gilded Lily and Spruce & Willow for home décor, Cycle Central for bikes and snowboards, and the Antique Mall of Wenatchee.
If hiking's your thing, head out to Saddle Rock Trailhead and capture a magnificent view of the city at the end of a two-mile hike to a summit of craggy rock. Nearby is Squilchuck State Park, a 249-acre public recreation area that offers hiking, mountain biking, group camping and bird watching. If it's warm enough, rent a paddleboard at the Wenatchee Row & Paddle Club, try classes at iLa Yoga or find outdoor gear at Arlberg Sports.
Later on, unwind at Badger Mountain Brewing or Wenatchee Valley Brewing Co. before grabbing dinner at McGlinn's Public House or Stones Gastropub. Fonda Oaxaqueña offers a delicious and authentic Mexican mole (try it on the enchiladas). Fire At Pybus, located at the market, is known as Wenatchee's hotspot for wood-oven pizza. Wenatchee is also home to several wineries and cideries.
And who doesn't love a good burger? Locals say the double bacon with cheese at Larry's Drive-in in East Wenatchee is a must-have, as is the wildcat/panther burger at Bernie's Burgers & Suds.
As for lodging, rent an Airstream camper-RV via Airbnb. Your hosts will even deliver it to your campsite if you're within 75 miles of Wenatchee (three-night minimum). The Residence Inn by Marriott and the Avid Hotel both opened this past summer.
Also keep in mind that Wenatchee has a semi-arid climate. Hot, dry summers give way to cooler temperatures in the fall. The average temperature in Wenatchee in September is 77 degrees. In October, it's 64 degrees. That makes Wenatchee cool in more ways than one.
Sun, Suds & Water
Here's why fall is a beautiful time to visit the Yakima Valley
By Rob Smith
Fall in the yakima valley is all about whitewater rafting, beer and wine.
After skipping last year because of the coronavirus, the popular Fresh Hop Ale Festival is back. More than 70 breweries, wineries and cideries will cater to thirsty crowds between 5 and 10 p.m., Oct. 2, at the Sozo Sports Complex. This isn't any ordinary festival: Yakima Valley produces about 75% of the nation's hops, second only to Germany in overall production.
As for fun on the water, Yakima Valley boasts six rivers offering whitewater thrills and fly fishing. Float in the Yakima River Canyon, the only "Blue Ribbon" trout stream in the state. The canyon is also home to raptors and bighorn sheep. Tieton River, the fastest-moving and fastest-dropping river in the state, boasts 12 miles of whitewater rafting and kayaking. Perhaps the best kayaking spot is the Little Naches River up the Chinook Pass Scenic Byway.
If you prefer land to water, hit Cowiche Canyon for a day of mountain biking on nearly 30 miles of trail, or head over to Chinook Pass for a relaxing, shady ride through a forest.
The region has also become a wine destination in its own right with more than 120 wineries. Be sure to check out one of the more than 30 wineries in Prosser, a quaint small town considered the birthplace of the state's wine industry. Favorites include Airfield Estates, 14 Hands and Prosser Vintners Village, an enclave of several wineries and a restaurant, all within walking distance. Freehand Cellars in Wapato has several lodging options and even offers an upscale Airstream complete with a hot tub and deck. Hotel Maison also offers a great base from which to explore the Yakima Valley.
If you're up for a walk without imbibing, take a leisurely stroll on the Yakima Greenway, a 20-mile paved pathway spanning from Naches to Union Gap. Enjoy parks, fishing lakes, picnic areas, playground and river access landing. And it's pet friendly. Feeling a little more mellow? Take The Little Hopper, a four-hour guided tour on the "beer bus" and discover the valley's hops country and breweries.
And, at the end of an active day, be sure to visit Provisions Restaurant and Market. Check out the Buddha bowl, the boneless fried chicken or one of the brick-oven pizzas.
No matter when you go, chances are the weather will cooperate. The sun shines about 300 days a year in the valley. It's a world apart – yet only a two-and-a-half-hour drive from Seattle.
Timeless Landscape
Reasons to visit Olympic National Forest, the northwest point of the contiguous U.S.
By Rob Smith
From the mountains and rainforests to a spectacular coast-line, the 633,000-acre Olympic National Forest has an almost mystical, otherworldly beauty. Its brilliance is particularly on display during fall, when timeless landscapes shimmer.
Epiphytic mosses grow in long strands from tree branches and turn brilliant chartreuse. Considered to be the best autumn color viewing in the Pacific Northwest, big leaf maples form a canopy of giant yellow leaves over the forest and vine maples burst into vivid orange, salmon, yellow and red colors.
Much of the Olympic National Forest remains unchanged since it was home to Native American tribes. The forest was named a World Heritage site in 1981 because of its beauty as well as its diversity of plants and animals. It is the most northwest point in the contiguous United States.
The Hoh Rain Forest, on the west side of nearby Olympic National Park, has been called perhaps the quietest place in the United States. "One Square Inch of Silence" was designated in the forest on Earth Day in 2005 on the theory that protecting just a tiny piece of land from noise pollution could benefit the park. The exact location is marked by a small red stone.
Book a stay at the 91-room Lake Quinault Lodge, a property listed on the National Register of Historic Places located within the Quinault Rainforest. The upscale accommodations are devoid of TVs, phones or wi-fi, so guests can relax in the grand lobby or on the porch overlooking the lake. The Roosevelt Dining room is named after President Franklin Roosevelt, who signed an act to establish Olympic National Park in 1938.
Other options include the Lake Crescent Lodge, a 106-year-old historic hotel nestled among giant fir and hemlock trees; Sol Duc Hot Springs Resort, a pet-friendly lodge featuring 32 cabins with easy access to hot springs mineral pools; and Log Cabin Resort, a place with authentic log cabins, lodge rooms, A-frame chalets, rustic camper cabins and RV/tent camping sites.
Nearby are eight miles of interconnected trails, including the Giant Sitka Spruce Trail in the Quinault Rainforest, home of the world's largest Sitka Spruce tree that is more than 1,000 years old and 191 feet tall. Other hiking trails include the Western Red Cedar Tree Trail with a "cathedral"
top and the Bunch Falls Trail that leads to a 60-foot waterfall that tumbles down a mossy slope. Wildlife lovers can embark on a bird-watching tour and enjoy more than 300 species of birds. Canoe or kayak as king, coho, sockeye and chum salmon spawn in the shallow water along the small tributaries of the Upper Quinault River. About 100 bald eagles feed on the fish.
Photo credit in order: Aramark, Amtrak, Gene Faught, Ellen Meny, Gene Faught, Wenatchee Chamber of Commerce, Yakima Valley Tourism, Mahre Media, Aramark