Malama Oahu, and Oahu Will Malama You
History, Hawaiian foods, and where to rest your head. A four-part series exploring Oahu
By Natalie Compagno and Greg Freitas May 9, 2023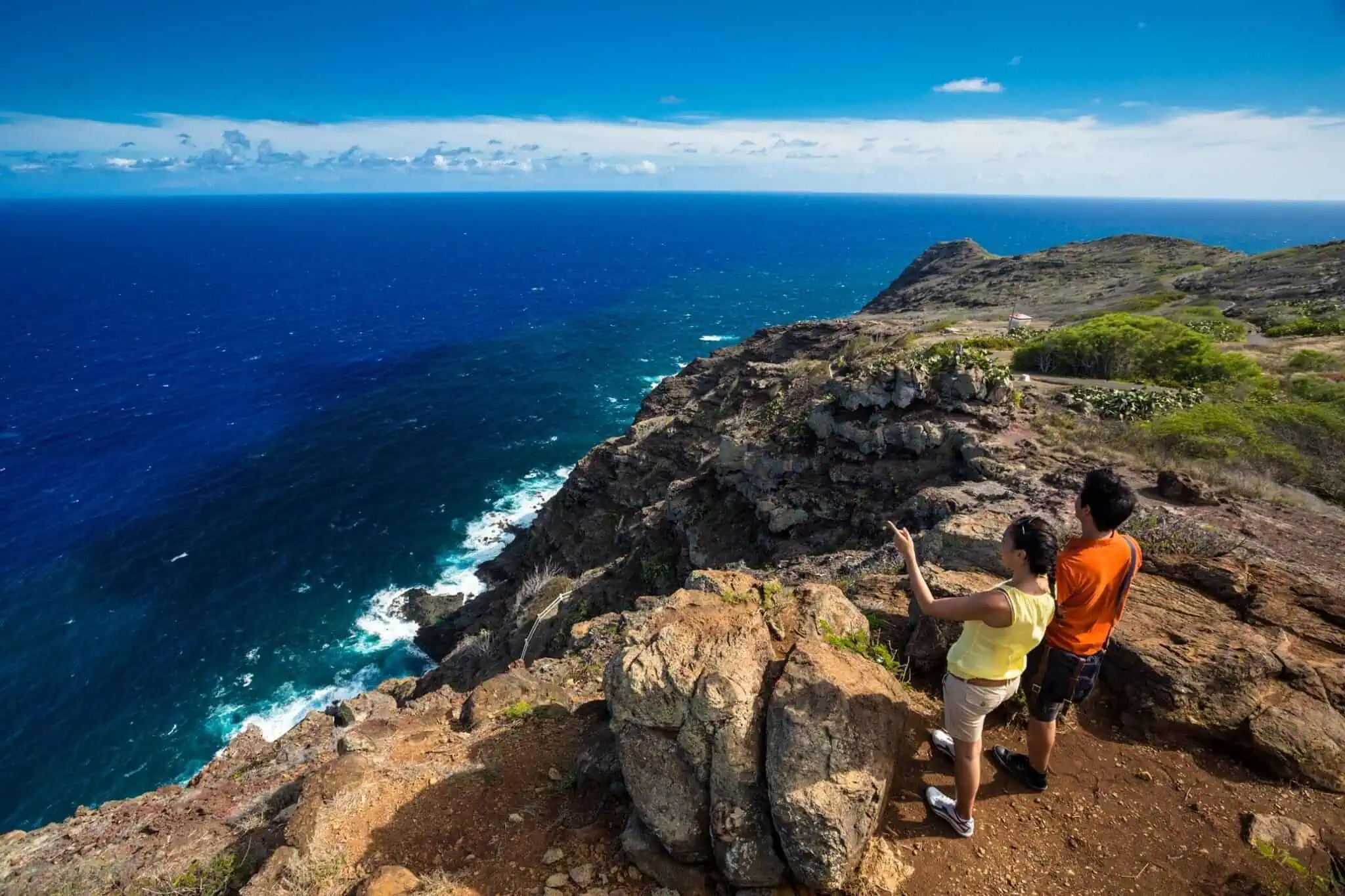 Photo courtesy of the Hawaii Tourism Authority (HTA) / Tor Johnson
"Hawaii is not a state of mind but a state of grace."- Paul Theroux
Hawaii takes its responsibility as a tourist destination very seriously, and so should its millions of annual visitors. By leaving the island a better place, tourists enjoy a richer experience from their Hawaiian travels and gain a deeper appreciation for Hawaiian people and culture.
When enjoying the aloha of Hawaii, vacationers should practice malama, which means "to care for" and "to protect" in Hawaiian. This essential value is deeply embedded in Hawaiian culture. It emphasizes the responsibility of each individual to take care of the land, ocean, and resources that sustain life. As tourism continues to grow in Hawaii, it's crucial for vacationers to understand the significance of malama and the potential dangers of over-visitation.
By following these guidelines, tourists can contribute to the preservation of Hawaii's unique culture and environment. Practicing malama is an enriching experience — and is guaranteed to make the trip more memorable, both for the mainlanders and the locals.
Respect the 'Aina (land)
The Hawaiian Islands have a fragile ecosystem, and visitors should make an effort to minimize their impact on the environment. This includes staying on designated trails, not littering, and not removing any natural resources or artifacts from the land.
Take a hike with a naturalist guide. Many companies offer hiking tours on Oahu but choosing a tour with a naturalist guide can help visitors learn about the island's delicate ecosystem and the importance of conservation efforts. ome guidebooks invite visitors to hike in fragile areas, so know before you go. Guides can point out native plant and animal species, explain the impact of invasive species, and educate visitors on ways to minimize their impact on the environment while enjoying the island's natural beauty.
Take an epic zipline at CLIMB Works Keana Farms on the North Shore to fully appreciate the fragility of the ecosystem. Formerly 100% self-sufficient, it is estimated that the islands would now have less than one week of food ithout global shipping. Keana Farms expert guides are happy to answer any questions about ahupuaʻa, ancient Hawaii's genius land management system that cut parcels in pie-shaped wedges from the highest mountains down to the sea, ensuring a holistic approach to ecology and food equality for families, based on land fertility.
Immerse Yourself in Hawaiian Culture
For centuries before it became our 50th state, Hawaii was a full-fledged sovereign state of its own. After decades of decline and white hegemony, pride in the ancient Hawaiian culture has returned in a big way. The Hawaiian Renaissance of the 1970s sparked an explosion of new interest in the language, history, and ancient ways.
Visit Bishop Museum and Iolani Palace in Honolulu to gain a more complete picture of Hawaii's rich history and culture. From King Kamehameha to Queen Lili'uokalani, the twisted history of royal succession in Hawaii is more captivating than The Crown. Witness the quilt that Lili'uokalani made while imprisoned in the royal palace for a poignant reminder of her final days.
Read Unfamiliar Fishes by Sarah Vowell, for a quick, witty recap of American political maneuverings in the islands, including the invasion and overthrow of a democratically elected monarchy.
Support Local Businesses
Hawaii is a relatively small island economy that is highly dependent on visitors. Be conscious when spending your money and shop local! It's a win-win. Some shops might seem like chains but are actually Hawaiian-owned. Crazy Shirts is an old-school shirt shop with laid-back threads, and Zippy's is a beloved local diner chain. ABC Stores can be found on virtually every block and are filled to the brim with souvenirs you didn't know you needed, as well as staples for your vacation.
Even better, seek out unique mom-and-pop stores and invest your tourist dollars there. Justify your shopping spree by knowing it helps to sustain the local economy.
Ten Tomorrow is a boutique with locally designed fashion; Hound & Quail will make you wish you had brought a steamer trunk to take back all their unique antique finds. Bookends in Kailua is a big, locally-owned indie book shop with stacks of new and used beach reads. Also in Kailua — and at Four Seasons Ko Olina — Nick Kuchar Art & Design Co. has perfect retro prints for your home.  Or just wander the side streets to find your own favorite indie shop. Chat with the owners about their food and fun recommendations and you will make a new hoaloha (friend).
Grab a pair of chic sunglasses from Mohala eyewear so you can hit the isles in style, available online or at Nordstrom Bellevue. This Hawaiian female-owned company creates inclusive eyewear for all face shapes and a percentage of sales goes to Room to Read, ensuring that young kids have access to books in their languages around the world. Coco Moon Hawaii contributes to over 50 Hawaii nonprofits and makes adorable travel blankets and onesies for kids. Also hit up Oahu's robust food truck scene, craft markets, art fairs, and engage with local artists.
Be Respectful
Visitors should be respectful of the local community, traditions, and practices. This includes being mindful of noise levels, not trespassing on private property, and following local customs.
Surfing in Hawaii is a sport and tradition that dates back hundreds of years. The "my beach" ethos of the 1980s is mostly gone but be respectful. The locals are happy to share as long as visitors show basic awareness of the unwritten rules of the sport. It's mostly commonsense courtesy, such as not taking off on a wave that someone else is already riding.
Regardless of skill level, surf lessons can be the highlight of any trip and fun for the whole family. It's also a natural way to meet the locals and learn about their passions and favorite parts of the island.
Pitch In & Participate
Visitors can also participate in community efforts to support malama. This includes volunteering for beach cleanups, supporting conservation organizations, and learning about sustainable practices.
Visit Papahana Kuaola, a nonprofit organization located in a lush green valley outside of Kaneohe. Take guided tours to learn about traditional Hawaiian practices and participate in various activities, such as restoring native habitats, cultivating crops, and making traditional crafts.
Humpback whales have enduring spiritual and cultural significance to Hawaiians. During the winter months, the gentle giants migrate to Hawaii to mate and give birth. Whale watching tours offer visitors a chance to observe these magnificent creatures in their natural habitat while also learning about the importance of protecting their environment. Many whale watching tours also include education on the impacts of plastic pollution and ways to reduce our dependence on single-use plastics. Sustainable Tourism Hawaii has an extensive list of approved operators.
One Ocean Diving on the North Shore guides visitors to safe viewing of Galapagos sharks in the open ocean. Along with the thrills of being in the water surrounded by dorsal-finned friends, One Ocean operates a robust beach cleanup and education program. Inquire for ways to make a difference, or simply pick up some plastic the next time you are enjoying a glorious Hawaiian sunset on the beach.
For more information, learn more at Go Hawaii's extensive malama website.
Read more about exploring Oahu and the North Shore in the first, second and third installment of this four-part series.
Natalie and Greg have written for Travel + Leisure, Fathom, Food52 in addition to Seattle magazine. They've been to 117 countries combined. Inbetween trips they live in a houseboat on Seattle's Lake Union.