Nantucket meets Northwest in Seabrook
This adorable beach town isn't short on character.
By Rachel Hart May 31, 2017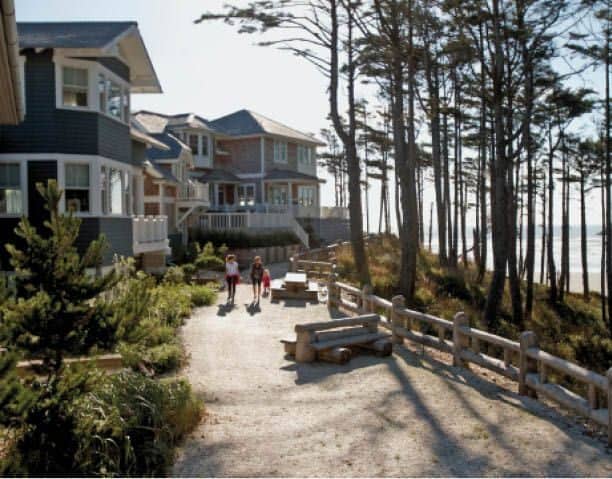 Seattle magazine's 12 Best Northwest Vacations package highlights the top PNW getaways.
There is something especially restorative about traveling to the very edge of the country. You are forced to stop, sit and enjoy the spectacular view. And at Seabrook, the growing vacation community perched on the Washington coast just south of Pacific Beach, the views in every direction are fantastic. 
There is the windswept beach, of course, but the town itself is easy on the eyes, popping up like a gleaming Oz amongst the rustic barns and chainsaw carving art stands that dot this stretch of State Route 109. 
Seabrook founder Casey Roloff's vision—to create a destination-worthy, walkable beach town on the Washington coast, with all the charm and amenities of places like Cannon Beach—came to him when he and his wife, Laura, were looking for a beach home. They couldn't find one with architectural character, so they built one, and a 350-acre picture-perfect town to go with it. Curving rows of spacious, stately, Nantucket-meets-Northwest, farm-style homes greet you; walkways lined with crushed oyster shells connect the homes; sprawling front porches invite guests to enjoy sunsets while sipping wine. Kids (and plenty of grown-ups) ride bikes gleefully, without needing to dodge much traffic (old-school cruiser bikes are available for rent). Communal fire pits beckon for toasting s'mores, and the heated indoor pool is especially cozy in the evenings. There's even a wedding-ready white town hall with a steeple. It's a juicy slice of small-town coastal Americana.
The wide variety of privately owned homes available to rent—all furnished with modern beach-home decor—can accommodate groups from two to 20 under one roof, and make Seabrook a great spot for vacationing with families or friends. You'll find distinct "neighborhoods" within Seabrook (clusters of one-story white cottages, campground-like "Beach Camp" cottages, log-cabin-style homes); the newest, Farm District, has room for pea-patch gardens and an equestrian barn for homeowners with horses, and currently in the works is the Farm House Inn, with six to eight guest rooms and plans to host special dinners featuring Seattle chefs. 
Everything is an easy 5- to 10-minute walk to the town's retail area, which has grown to include a brick-oven pizza place, a well-curated candy and ice cream shop (featuring scoops from Tacoma's Ice Cream Social), a decor and gift shop, and a bakery/coffee shop. In April, construction began on 23,000 square feet of new ocean-view retail space, which will add a grocery store, vintage arcade, barbecue restaurant, high-end seafood and cocktail bar, bookstore, flower shop, yarn shop, juice bar, clothing boutique and more.
Summers are glorious, of course, and hearty souls who embrace the rugged charms of the Washington coast savor the other seasons. Seabrook isn't a place for thrill seekers, but that's sort of the point: Restore, relax, repeat. Being there feels like residing in the house and the neighborhood you've always wanted to live in—and that is a bit of a vacation all its own. 
Insider tip: Don't miss the Gnome Trail leading down to the beach, with its little dwellings fashioned from clamshells, bark and other found objects. Learn about the "art of town building" and the origins of Seabrook at one of founder/developer Casey Roloff's Saturday-morning town tours.
Good to know: Seabrook, about 70 feet above sea level, is a tsunami evacuation site for the area. The beach is accessible via two staircases and a walking trail.
Details: 
Seabrook: Pacific Beach
4275 State Route 109; 877.779.9990; seabrookwa.com
Rentals: The average weeklong rent for a home for four is $2,142 in high season and $1,150 in low season. Looking to buy? One percent of each home's purchase price goes to the Seabrook Community Foundation, which supports scholarships and nonprofit organizations in Grays Harbor and North Beach area.
Check out more top Northwest vacations here.