Oregon: The neighbor you think you know
Discover Oregon's many charming quirks
By Natalie Compagno and Greg Freitas May 17, 2023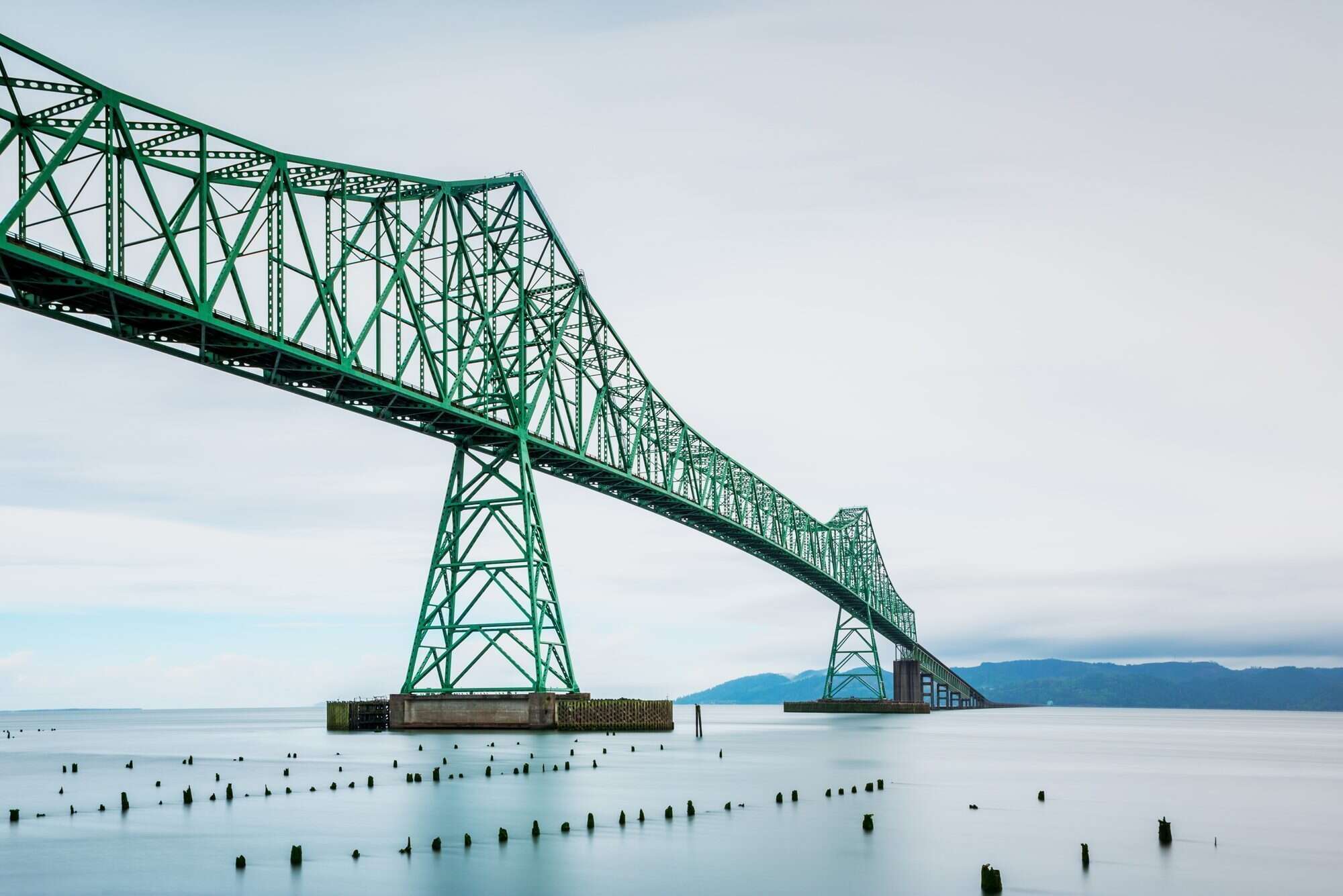 Photo by Allard Schager/Getty Images
Imagine a dinner party in the neighborhood. The invitation looks familiar, but when you arrive, the event is not at all what you expected. There are many rooms with different themes. The guests are intriguing and inviting. An astronomer chats with a master brewer, a ship's captain extrapolates on weather patterns with a sommelier, and an artist discusses outdoor adventure with a park ranger.
Oregon is the neighbor you think you know, but you soon realize you can never know all its secrets. Embark on this road trip and get to know your neighbor. Meet some of Oregon's wild, wacky, and wonderful personalities.
Astoria is the oldest American settlement west of the Mississippi River and is perfect for seafarers, film and history buffs, and beer lovers. Of all the quaint Victorian villages that dot the Pacific Coast, this was the first. The history here is palpable, not so much for the neighborhood architecture as for the confluence of giant river with immense ocean.
Check into the Cannery Pier Hotel & Spa built 600 feet over the water. Every room offers a view of the Columbia River, many with sunken tubs overlooking the bridge and water. Ship spotting is addicting, so grab the updated report at the front desk or download the MarineTraffic app. For detailed vessel gazing, binoculars in each room reveal cargo ships, fishing boats, and the occasional cruise ship up close.
Astoria is a great walking city, stuffed with specialty shops, thrifting finds, and salty dives. It's a destination beer town, so have lunch at Buoy or Fort George and grab some cans for later. For nights out and a chauffeur, arrive in the hotel's vintage Rolls Royce Silver Cloud, available for guests. The locals love Fedé Trattoria for classic Italian, or post up at South Bay Wild Fish House for fresh seafood caught daily.             
For spectacular views, climb Astoria Column. The 125-foot-tall monument to the Pacific Northwest offers the complete panorama from a hilltop. Tour the Flavel House Museum, an 1865 ode to Queen Anne architecture built by a wealthy ship captain. Visitors will learn a lot about the history of the town along with the dangerous way Captain Flavel made his fortune — in the graveyard of the Pacific.
Astoria prides itself as a unique filming location, able to stand in for any number of different destinations. The Oregon Film Museum resides in the old Clatsop County Jail, itself a setting for several movies, including The Goonies. As of this writing, The Goonies house was purchased by a superfan from Kansas City who encourages foot traffic and intends to preserve it intact. Goonies never say die!
In Tualatin Valley, there are wineries galore among pristine hills, with a diverse and growing food and brewing culture. It's perfect for wine and nature lovers, couples, hikers, and cyclists.
The Chehalem Mountains provide the ideal climate for some of the world's finest Pinot Noirs. Follow the Tualatin River to its own eponymous valley for a long, lazy weekend of wine-sipping, communing with nature, and farm-fresh feasts.
Stop in at Sidereus Vineyard & Winery for gorgeous views and tasting. It sources grapes from all over the valley, culminating in its signature Bordeaux-style Bull's Blend. Then check out Dion Vineyard or Blizzard Wines for small-batch crush in intimate settings. Finish this perfect afternoon with award-winning sunset views of Mount Hood and a glass of bubbly around the firepits at Árdiri Winery.
Farther afield, Amaterra is a staggeringly opulent winery and restaurant that opened last year with impressive wines and fine dining. A one-time small membership fee is required. For a chill vibe, check out Abbey Creek Vineyard in North Plains — The Crick — for high-end wine in a hip-hop setting from Oregon's first known Black winemaker, Bertony Faustin.
SakéOne in Forest Grove is one of the only saké breweries in the Northwest, featuring master brewer Takumi Kuwabara. Deep Space Brewing is both Black and woman-owned, and part of the brand-new Tualatin Valley Ale Trail, which boasts an impressive 17 breweries.
Afterwards, take in the natural beauty with a leg-stretcher. Chehalem Ridge Nature Park opened in 2021, with 10 miles of hiking and biking trails spread over 1,260 acres. Cyclists can target Bald Peak, the highest point in the region at more than 1,600 feet or do a lap around Hagg Lake. Families will love the seasonal u-pick berries at Unger Farms, or the flat, peaceful Banks-Vernonia State Trail.
Charming downtown Hillsboro has a blossoming food scene. Syun Izakaya prepares expert sushi and steaming bowls of ramen for hungry grape-goers. Or after a long day of tastings, treat yourself to Top Burmese Ambassador. The Southeast Asia-in-the-20s locale has killer craft cocktails and great curries, all served by robots. That's right. Your Negroni and sweet mango wings will be brought to the table by a sort of adorable machine that manages to avoid people and objects without incident. Be sure to ask your server for your robot's name. Each has one.
The Allison Inn & Spa entices with reliable resort luxury for a romantic weekend. An exciting opening to monitor for 2023 is Cedartree Hotel in Hillsboro. It's the first American outpost from the Kyoto-based hotel group, with Japanese ambience, onsen stone baths, and of course, a saké bar. Kampai!
Bend is a booming, high-desert town in central Oregon at the foot of the Cascades. It is perfect for skiers, snowboarders, mountain bikers, families, and beer trekkers.
Descending down the steep eastern slopes of the mountains, Bend unfolds like a subtle surprise. First comes the tiny western town of Sisters. Stop in at High Camp Taproom to sample the local brews and feast on tasty Himalayan food. Then comes Highway 97, leading to the Bend in the river. The former mill town on the Deschutes River has completely reinvented itself as a mecca for beer, tech, and outdoor enthusiasts.
The mountains preside over Bend like Greek gods. Black Butte, the Three Sisters, and Mount Bachelor call to adventurers with snowboards and mountain bikes from all over the West, so get ready for a raucous, outdoorsy atmosphere. Mount Bachelor has epic slopes plus free ranger-led snowshoe tours on certain days. With 300 days of sun shining on the region annually, the patio is the perfect place to sip beverages on a bluebird day.
If you plan on spending a lot of time enjoying Mount Bachelor, stay at Tetherow for its luxury spa, golf, and food just downhill from the slopes. It's also conveniently close to town. For great rates, check out the Campfire Hotel for a comfy vibe and heated saltwater pool.
The dark night skies of central Oregon are ideal for stargazing. For an out-of-this-world experience, don't miss the Hopservatory at Worthy Brewing — the world's only brewery observatory. Climb the ladder to peek through the 16-inch Ritchey–Chrétien reflecting telescope, the same type as the Hubble Space Telescope. Director Grant Tandy guides tours of the night sky Wednesday through Sunday, weather permitting, for a suggested $5 donation. Then head back down to the cozy brewery for a well-deserved pint or two.
Got grub? Bend seems to step up its food and dining scene weekly. Bos Taurus is one of the finest purveyors of beef in the Pacific Northwest, but calling it a steakhouse would be a mistake. It is far more intimate, with expert servers flying around, explaining cuts and breeds like sommeliers of steer. Then waves of impeccably sourced wagyu, filet, and more arrive at the table, perfectly prepared.
Nearby in the Old Mill District, Lady Bird Cultural Society prides itself as a restaurant with a point-of-view. And how. The carefully curated décor is spectacularly 1920s, with crystal chandeliers and gilded mirrors superimposed against black walls and furniture. The cocktail menu follows the theme — the Lady Bird Martini is made with pink gin, naturally. Feast on wood-roasted Pacific Northwest oysters and mussels, truffle stuffed Camembert, and pork Milanese.
Market Hall at The Grove has a ton of options on your way up or down the mountain. Stock up at Elly's for ice cream, Waypoint for cocktails, and Shimshon for Israeli street food. Ask Shimshon owners Steve and Amy Draheim about their trip to Tel Aviv that inspired the restaurant concept while dining on their fabulous mezze platter.
Across the street, Sparrow Bakery serves hearty breakfasts and sandwiches for a big day on the mountain. Think French toast, Monte Cristos, and bagels. Try the famous Ocean Roll, with cardamom vanilla sugar rolled up in an airy croissant, paired with a mimosa. Delicious. Next door is a delightfully curated home goods boutique, Roots Adorned. Pick up jewelry or curios from local and global artists as a souvenir.
Portland is Oregon's capital of cool. It's perfect for urban explorers, foodies, fashionistas, and bon vivants. Portland is where youthful spirits go to plant their dreams in a fertile urban garden. Or because they revere food, fashion, and beer so much, they haven't yet learned to take no for an answer. It is a tiny city that nevertheless sprawls without interruption into so many distinctive neighborhoods, you feel like you're in a metropolis.
Portland has some exciting news for 2023: The first Ritz-Carlton in the Pacific Northwest opens this summer. Located downtown near the Portland Art Museum, the new arrival will have 251 rooms and 132 residences. It will be Portland's first true five-star hotel.
For a more PDX hipster feel, check into the Woodlark for easy access to downtown and the Pearl District. The boutique property has stylish rooms, city views, and dining options — Bullard Tavern serves up Texas-style barbecue, while Abigail Hall mixes small plates with craft cocktails. The staff is friendly and chic, and the lobby coffee shop is a groovy hangout.
For a cultural, two-step, walk to the Portland Art Museum and The Oregon Historical Society. Portland Art Museum always puts on interesting exhibits, as a recent showing of Dakota artist Oscar Howe proved. This summer it will spotlight the masterful stop-motion animation of Oscar-winner Pinocchio, from Portland's latest adopted artist, Guillermo del Toro. The Oregon Historical Society is refreshingly interesting. Did you know that Oregon was the first state to make all beaches public? Stop in for more.
Portland's shopping options are numerous and well-known. Hit Powell's for books and Wildfang for fashion. Even the Goodwill is posh. Across from the bookstore, stop into Living Room Theaters for a screening with a cocktail in a recliner.
Make a reservation for "Hip Hop, Wine & Chill" at The Crick PDX. Then pop over to Toki for Korean food in the buzzy, effervescent environment that is Portland's trademark. Chef Peter Cho's other location, Han Oak, became famous not only for its legit Korean cuisine, but also because the restaurant was located inside his own home. In Portland, that's just what you do.
Portland was named as having the best pizza restaurant in the country by the authors of Modernist Pizza. Lovingly crafted pizzas of every style are popping up all over town. A favorite is the wood-fired anchovy pizza with stracciatella at Cafe Olli in the hip-even-for-Portland Williams District. Order a side of Calabrian chili honey to drizzle and take one to go.
Stop in at the Pittock Mansion for more local history and dizzying views of the city. Henry Pittock arrived from London via the Oregon Trail in 1853 with nothing, eventually becoming the publisher of The Oregonian. He was an avid outdoorsman and cyclist, and was part of the first group to climb Mount Hood. His wife, Georgiana, became a suffragette and fundraiser, building a home and shelter for single women. More than 100 years ago, they were already Portland personified.
Natalie and Greg have written for Travel + Leisure, Fathom, Food52 in addition to Seattle magazine. They've been to 117 countries combined. Inbetween trips they live in a houseboat on Seattle's Lake Union.
Sign up and get Seattle's best events delivered to your inbox every week.