Seattle Summer Staycation
Indulge in an luxurious escape close to home
By Natalie Compagno and Greg Freitas August 1, 2023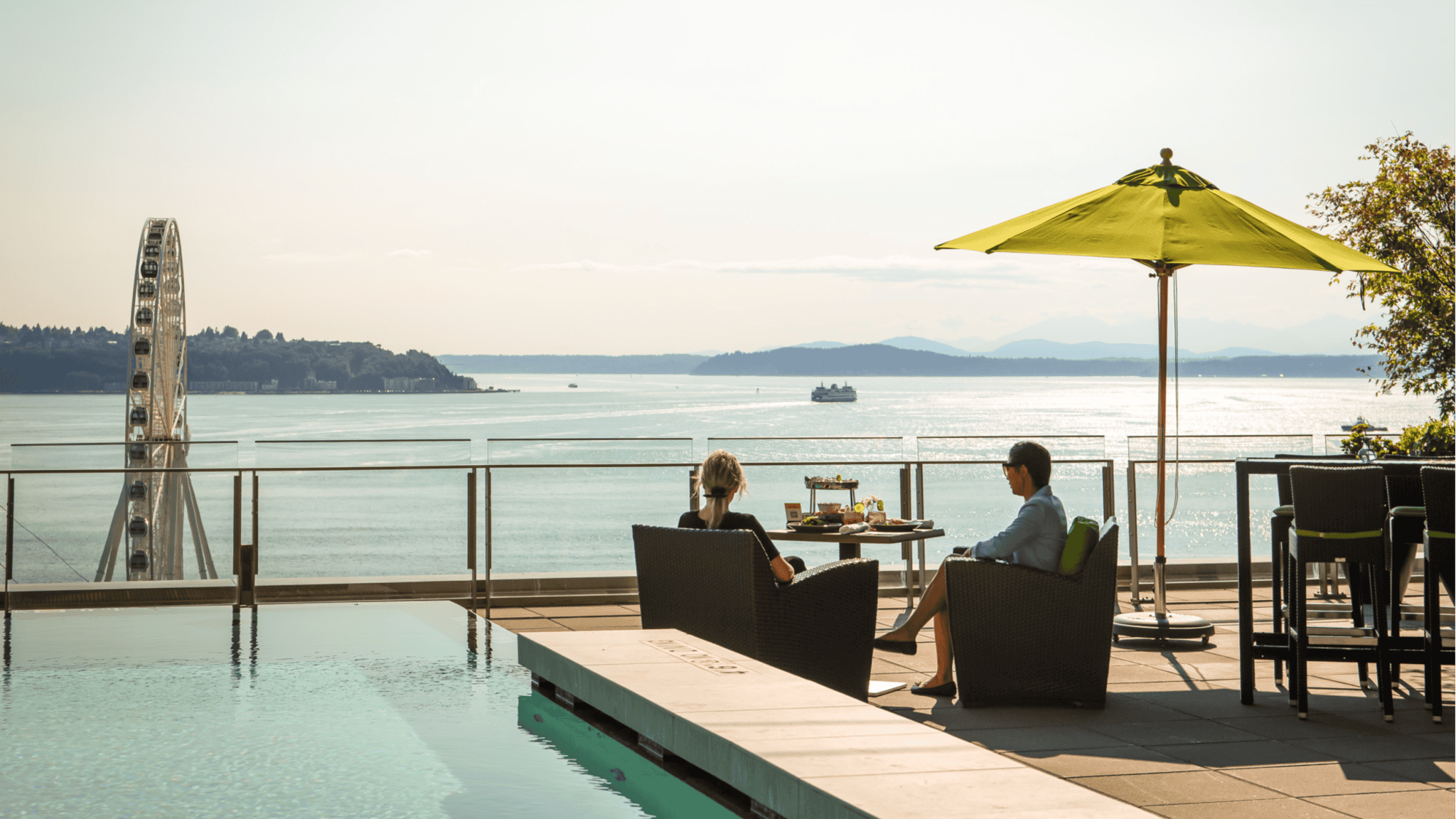 Photography by Benjamin Benschneider/Photo courtesy of the Four Seasons Hotel Seattle
"Summertime, and the livin' is easy …"
… unless you live in Seattle. Far-flung family and friends finally wise up to the notion that we live in a magical place — surrounded by water, nature, and coveted cuisine. Time for a visit! They descend in waves while we struggle to house, feed, and entertain them. Want a break from summer break? This could be the excuse you need to check into a local hotel, with or without your guests. These staycation escapes will bring back that easy summer vibe.
Splish! Splash!
Nothing says summer like a shimmering pool. Check into Level South Lake Union for your choice of two pools, and enough diversions to entertain everyone from kids to grands. Put them in the three-bedroom sky suite and your group will never need to leave. Level South houses a game room, arcade, karaoke room, theater, indoor basketball court, climbing wall, and a full drum kit with rehearsal room that will keep your posse occupied for days. They won't even notice when you sneak out the front door.
The Four Seasons infinity pool is unique in Seattle, with views of the Sound, the Seattle Great Wheel, and our beloved ferries. Skip the planning. The pop-up pool parties provide the fun. The Popmosas event pairs Veuve Clicquot with Seattle Pops. Perfection for the taste buds! The Presidential Suite and Governor's Suite have been completely renovated so book ahead for an elevated, democratically elected, experience.
Kids adore the indoor pool at the Fairmont Olympic and adults will love the Victorian-style glass conservatory, with hot tub and spa just steps away. If your visitors hail from Washington, Oregon, Alberta, or British Columbia, even better. This summer they get 20% off the nightly room rate.
Classy and Cool
Inside the gleaming 660-foot F5 Tower, Lotte Hotel Seattle and its next-door event space, The Sanctuary, encapsulate years of Seattle history. Request a bay-view room; the Philippe Starck design and impeccable service will silence even the harshest critics. Wind down at Le Spa de l'hotel Lotte, then indulge in dinner and cocktails at restaurant Charlotte. Lotte's package deal with Teatro ZinZanni's residency inside the Beaux-Arts Grand Ballroom at The Sanctuary is a showstopper. Book now and receive future discounted tickets for Teatro ZinZanni's fall season. Win, win!
Pulling up to Hotel Sorrento is like entering the Golden Age. The magnificent lobby with fireside bar, and pets-stay-free policy, conjure images of Nick and Nora Charles checking in with their dog Asta. Restaurant Stella's patio, The Garden, hosts age-appropriate events like jazz brunches and live music performances that augment the vintage flashback. Small talked out? Enjoy the silence at the twice monthly silent reading party in the Fireside Room.
If you don't know about Cedarbrook Lodge, then you should. Located just over one mile from Seattle-Tacoma International Airport, it is a secret oasis and layover lifesaver. Worlds away from rental car agencies and TSA lines, the resort is situated on 18 acres of natural, protected wetlands. Dine outdoors near the koi ponds at delicious Copperleaf Restaurant & Bar. After sending your guests off, checkn for a real staycation. The Return to Relaxation Package includes a $100 spa credit. Yes, please.
Rooftop views
Rooftop bars are the required amenity for watching our dazzling, late-night summer sunsets. For a sophisticated scene with a warm, personable touch, stay at Thompson Seattle. The refreshed rooftop lounge, The Nest, has ridiculous views, and the hip vibe will impress even the jaded New Yorker or Angeleno in tow. Book one of the new penthouse suites to take it to the next level. Each comes with exclusive options such as private cooking classes, stocked wine cabinet and fridge, Armoire designer fashion rental service (hello, no packing required!), and more. No "Seattle Freeze" here. At Catch a Vibe every Saturday, you and your crew can play lawn games, listen to music, and sip cocktails. Social mixer accomplished.
It's not just for UW families during the school year: The Graduate Seattle is an underutilized summer retreat. The Art Deco style and PNW attitude lend the 16th floor Mountaineering Club its cool factor. Sip a Rainier beer while gazing at the elusive mountain of the same name and regale your guests with Sasquatch stories. They'll believe you. They're on vacation.
If you have concert-goers dancing into town, the simple but stylish Astra Hotel is your jam. The Climate Pledge Arena package will pop complimentary champagne before the concert, supply a $20 Uber or LYFT credit, and offer a much needed late checkout. After the show, head to ALTITUDE Sky Lounge to see the twinkling lights of the city and recount the night's events.
Makin' Waves
Wanna plop the fam on the water near town but not in town? The Hyatt Regency Lake Washington — just a few nautical miles away in Renton — delivers. Listen to live music at Dock & Drink. They take their summer menu seriously, so you don't have to. After taking that quintessential family portrait, climb aboard TREK Ferry to get the party started. The retired Alaska ferry can be transformed into anything from a pool party to a mini-concert venue, or just motor around the lake enjoying hors d'oeuvres and drinks. Your family will think you're a hero.
Take a break from guiding your charges around town with a stay at W Seattle. The Faces of Seattle floor come with virtual guides — artistically rendered faces of imaginary Seattleites, with their favorite neighborhoods, things to do, and hidden haunts. Aquatic explorers must sign up for the Glamp W Adventure, with a glamp pack including waterproof phone case and a discount at Kayak Alki tours. A water taxi to West Seattle followed by a kayak around Alki. What could be more summer in the PNW? The views of the Seattle skyline are so good, your guests just might return sooner than you expect.
Beach Bum
 For a beachy road trip, head west to Seabrook on the coast, the perfectly curated seaside town where your guests are on vacation the minute they arrive. Extra! Extra! Seabrook has news to share. Recently opened: a year-round, outdoor, heated saltwater pool and fitness center, and the '80s-inspired Arcade on Front Street (Ms. Pac-Man and Space Invaders included, of course). Locals say the brand new Fresh Foods Market is a game changer, and The Stowaway Wine Bar allows visitors to sip and swirl with views of the Pacific. Vista Bakeshop's new sourdough program sells out daily and Frontager's Pizza Co.'s new take-out window makes for easy pie picking. Bookworms should wiggle out as Seabrook has launched its first annual Beachside Author Series. Just like The Seattle Public Library's, the readings are free. For a laid-back coastal resort, Seabrook has some sweet new mountain biking trails for beginners to intermediates. Pickleball and bocce ball are on hand, but what you really came for is the beach. Spend leisurely afternoons kite flying, sandcastle building, or picnicking, then order the sunset bonfire package on the shore to end a perfect day.
Secret Sauce
Many of these staycation destinations come with full kitchens, but sometimes cooking is the last thing you want to do on vacation. Problem solved: swing by Kitchen & Market in Pike Place Market. Meal kits and ready-made grab-and-go options are just what you need to feed the crew delicious meals with minimal effort. Korean Barbeque Fest is addicting, and the Paella Party is a summer splash hit.
Natalie and Greg have written for Travel + Leisure, Fathom, Food52 in addition to Seattle magazine. They've been to 117 countries combined. In between trips they live in a houseboat on Seattle's Lake Union.