Your Feast Portland Survival Guide
How to do the epic, four-day food frenzy right. (Hint: bite, bite, toss)
By Danielle Centoni September 18, 2014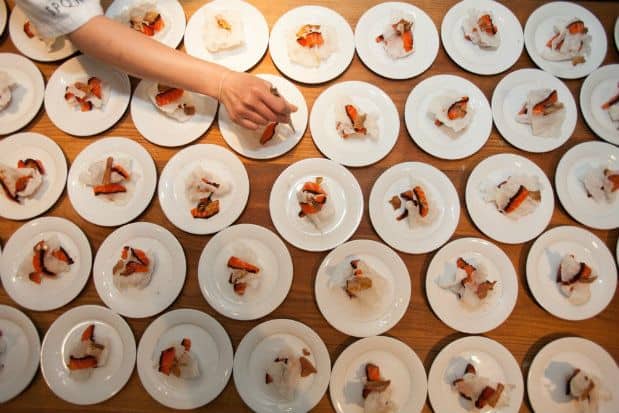 This week, the Northwest's most star-studded food festival hits Portland for the third year, and attendees are gearing up for Feast's epicurean onslaught. It's four days of the most delicious, diet-busting, tastebud-dazzling food and drinks you can cram down your gullet.
If you're headed to Feast, we offer two rules for managing the madness.  Rule No. 1: You don't have to eat it all. Do what the food judges do: bite, bite, toss. There are compost bins for a reason. Rule No. 2: Be choosy. You can't (or shouldn't) eat every sample, so don't even try. Take a walk through and identify your top-five choices. Then if you have room and inclination, you can try the others.
To help you decide where to devote your calories, we picked out the hottest plates at the main events. And if you don't have tickets to each one, don't worry. We put together alternative plans so you can make your own Portland food fest.
Note: Though most of the events are sold out, there's still time to get tickets to the Sandwich Invitational and High Comfort, as well as several tasting panels, classes and special dinners. Check the schedule to see what's still available and to purchase tickets.
Thursday Sept. 18: Widmer Brothers Brewing Sandwich Invitational
Buzz spreads quickly here, so it's easy to zero-in on the booths with the best offerings–they'll have long lines. They'll also run out first, so grab a beer from the Widmer stand and take your place in the queue. The big names from out of town are usually the biggest draw.  Seek out Chicago's Paul Kahan, one of the country's top chefs, and Matt McCallister of Dallas' FT33, who is one of Food & Wine's best new chefs this year.  Of the locals, you can bet Rick Gencarelli of Lardo and Tommy Habetz of Bunk won't disappoint. They're Portland's sandwich kings. Just beware the bread. It will fill you up before you're even halfway through. Try removing the top piece and eating the sandwiches open-faced.


Photo by Jannie Huang
No tickets? You can get a taste of the action at one of the city's three Lardo locations, or the delightfully dive-y Bunk. But there are plenty of other sandwich-for-dinner options, including Jewish deli greatness at Kenny & Zuke's; flavor-packed banh mi at Double Dragon; chef-y creativity at Meat Cheese Bread and Roman Candle; and Israeli deliciousness at Wolf and Bear's cart.
Friday Sept. 19: USA Pears Night Market Presented by Snake River Farms
Feast's Night Market, the festival's most popular event, was inspired by the crave-inducing Asian street food from Portland restaurants like Pok Pok and Whiskey Soda Lounge, Biwa, Smallwares and Nong's Khao Man Gai. Maybe that's why those same chefs hit it out of the park every year. Be sure to stop by their booths first. But whatever you do, don't miss whatever Gregory Gourdet has to offer. He's the creative force behind the pan-Asian plates at Departure–and he's an over-achiever who adds all sorts of wonderful extras to the plate. Also look for Argentinian-inspired Ox and Spanish Ataula, two of Portland's very best restaurants. As for out-of-towners, Ethan Stowell and Rachel Yang are apt to give the Portland chefs a run for their money. And you can't help but have high hopes for offal-aficionado Jon Shook of Animal in L.A., and Philip Speer, master of pristine Japanese cuisine at Uchi in Austin. As for drinks, stick with the cocktails–they're always the most interesting options.
No tickets? The dishes that gave those Portland restaurants their street-food cred aren't usually served at the event. So now's your chance to hit Smallwares for the sour-salty-sweet fried kale with candied bacon; Whiskey Soda Lounge for the finger-lickin' wings or late-night-only pad Thai; Biwa for the fried kimchi and slurp-worthy ramen; Departures for the inventive sushi and stunning view; and the new brick-and-mortar version of Nong's Khao Man Gai for coconut-lemongrass softserve.
Friday and Saturday, Sept. 19 and 20: Oregon Bounty Grand Tasting
Artisan food producers and chefs come together at this jam-packed outdoor tasting at Pioneer Square. The rules of engagement? Pace yourself. Do a pass-through to identify the goods you'd like to try most, then go back and tackle them in a logical order: Do the savories first (Olympic Provisions, Face Rock Creamery, Bunches & Bunches), then the sweets (Pacific Pie Co., Salt & Straw, Cacao). There's as much to drink as to eat, including some of the state's best craft beer (Ninkasi, Gigantic and Double Mountain) and wine (J.K. Carriere, Brooks and Montinore, to name just a few). There's plenty for everyone, so take your time and take breaks. Relax on the steps while you watch chefs like James Beard Award winner Naomi Pomeroy of Beast and Top Chef winner Paul Qui of Austin teach you their tricks. 
No tickets? This is one of the most affordable events of the festival and tickets are still available. Still, if you can't make it, you can at least approximate the wine tasting experience at Cooper's Hall, which offers 2-ounce tastings of an astonishing 35 wines on tap (mostly Oregon and Washington), plus craft beer and cider.
Saturday Sept. 20: Oregon Media Group High Comfort
High Comfort is all about luxe, from the ample pours of bubbly to the ample plates of richly sauced and creatively conceived dishes turning comfort food on its head.  The lineup always includes heavy hitters from around the country, and this year we'll be looking out for James Beard Award winner Jamie Bissonnette of Toro in Boston, chef and cookbook author Edward Lee of 610 Magnolia in Louisville, and Philip Krajeck of Rolf & Daughters in Nashville, which landed third on Bon Appetit's list of the best 10 restaurants in America last year. Speaking of the "Hot 10," Portland's Ava Gene's and Maurice made the list last year and this year, respectively, and their plates are sure to be hot tickets. Of the other hometown heroes, make a bee-line for Gabe Rucker of Le Pigeon and Jenn Louis of Lincoln. Luxe is what they do best.

Photo by Jannie Huang
No tickets? You could go to the above local restaurants and indulge in the full menu instead of just a taste. But if fancy comfort food is truly what you seek, try John Gorham's Tasty N Alder steakhouse, or The Original's gourmet diner food–both conveniently located downtown.
Sunday Sept. 21: Tillamook Brunch Village
Every year Feast gets a little better and, happily, a little more Portland. So, in true Stumptown spirit, Feast added a new event this year that celebrates a Sunday morning tradition so integral to the city it was mocked on the TV show "Portlandia." The Brunch Village (which takes its name from the episode) features some of the city's most line-worthy spots: towering biscuit sandwiches from Pine State Biscuits, Southern goodness from The Country Cat and classic favorites perfectly executed from Mother's Bistro. But the visiting chefs are no slouches, either. Be sure to nab some excellent brisket from Franklin Barbecue in Austin, and check out wood-fired Black Seed Bagels, purveyor of the buzziest bagels in NYC. While you eat you can watch some of the city's best bartenders compete to create the best brunch drink. 
No tickets? Portland is Brunchland. You'll have no trouble finding a great option in every 'hood, and for every craving. A few favorites: big plates of Southern comfort at Screen Door; farm-fresh, vegetable-centric fare at Sweedeedee; Swedish-inspired breakfast boards at Broder; and spicy chilaquiles at Por Que No.