How a Former Techie Found His Calling for Dance
Mikey Augusta teaches a new genre of dance he calls "outlaw swing"
By Sheila Cain July 8, 2015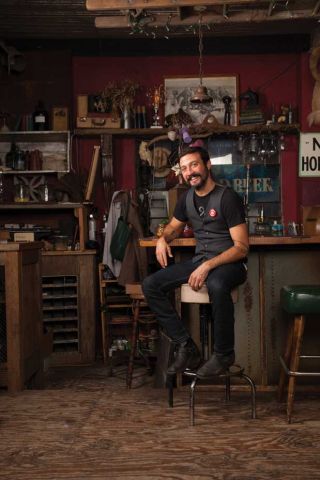 When Michael "Mikey" Augusta found himself drawn to Seattle's thriving honky-tonk scene 11 years ago, he realized he had one big problem: He couldn't dance. He started taking West Coast swing lessons, but quit after seven sessions—he found the formal moves and set-in-stone steps too contrived. "I'm just not a 'proper' person," says the Wedgwood resident, 42, who grew up in the Cleveland suburbs and moved to Seattle in 2000.
Forgoing additional lessons, Augusta instead frequented local alt-country bars, watching other dancers and borrowing some of their moves. He began to combine the parts of swing dance that he liked (live music, the basic six-count swing step) with his own contributions (more spontaneity, lots of whiskey), and "outlaw swing" was born.
Augusta, who spent 10 years at a Seattle legal technology company before beginning to teach group and private lessons two years ago, says anyone can learn outlaw swing. His style is less complicated than traditional swing, he says, and focuses on keeping time and mastering the lead/follow relationship. He finds couples to be the most interesting students because they almost always exhibit some sort of power struggle on the dance floor. "It's hard for people to let go and be led," he says. "It's equally difficult to be the lead." Things usually start to gel when Augusta shuffles up the partners, introducing a different dynamic on the dance floor. Another round of whiskey helps, too.

Need to Know:
1. Augusta teaches outlaw swing lessons ($10 drop-in) at bars throughout Seattle, including Conor Byrne Pub in Ballard, The Ould Triangle in Greenwood and Havana on Capitol Hill. Visit his Facebook page ("OutlawSwing") for dates and times.
2. He also teaches private lessons for couples and groups (prices vary; see outlaw-swing.com).
3. Leather soles (or other slippery shoes) are a must; cowboy boots are ideal. Be sure to dress lightly—you'll work up a sweat!
4. Augusta says that for lessons, he plays a lot of Buck Owens, but outlaw swing works with most alt-country/rockabilly bands, including locals Davidson Hart Kingsbery, The Dusty 45s, The Swearengens and The Buckaroosters.
5. When Augusta isn't teaching, you'll likely find him cutting a rug at the Little Red Hen in Green Lake, Conor Byrne Pub or Tractor Tavern in Ballard, or Slim's Last Chance in Georgetown. "I'm still very much a dancer who happens to teach," he says.
Seattle's best events delivered to your inbox