2011 Local Outdoor Gear Preview
It seems only fair to extend the locavore movement to outdoor equipment.
By Seattle Mag February 8, 2011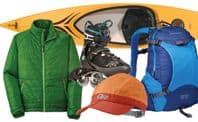 Seattle has long been a mecca for outdoorsy people and technical innovation, so it follows that some of the leading outdoor clothing and gear manufacturers in the world have set up shop here. Chances are good that many items in your gear closet were designed and possibly even manufactured within a few miles of home. We decided to take a look at new spring/summer gear and clothing designed and/or manufactured in the Seattle area to help you get through the active warmer months in functional—and local—style.
The name Cascade Designs may not ring a bell, but many of its brands—Therm-A-Rest, MSR, SealLine —are well known to those who enjoy a night out under the stars. Among the new offerings for 2011 from the SoDo-based company are a line of performance-oriented packs, the Platypus Origin series ($79.95–$159.95), featuring weatherproof construction, a contoured and ventilated design, and seamless hydration reservoir integration. Also look for: The Therm-A-Rest NeoAir Trekker ($139.95), Alpine down blanket ($249.95)
Kent-based REI, 73 years young this year, has been busy recrafting several of its eponymous product lines for 2011. Most notable is the new line of "technical trail" gear—including Revelcloud jackets ($139) and vests ($99.50) for men and women, which blur the line between fitness and hiking clothes. Revelclouds are made with wafer-thin PrimaLoft that insulates even when wet. The garments' outer shells, made of recycled polyester, are abrasion resistant but feel silky to the touch.Also look for: The Novara Buzz One bicycle ($399) and 27-speed Novara ETA ($799)
Burlington–based Eddyline Kayaks, which pioneered using thermoformed plastic (trade name: Carbonlite 2000) to make its boats lighter while performing better, has several new models in the offing for 2011, including its first-ever sit-on-top kayaks. The still-unnamed boats will come in a 14-footer ideal for anglers and a 12-footer designed for recreational cruising (prices TBD). Eddyline is also doing a remake of its popular 12-foot Sandpiper kayak ($1,249), which combines a big cockpit with lightweight stability. Also look for: A 10-foot version of its recreational Skylark kayak ($899)
Founded in 1980 by physicist and mountaineer Ron Gregg, SoDo-based Outdoor Research (OR) is best known for its Seattle Sombrero ($54), a Gore-Tex rain hat that has become de rigueur among hikers and other outdoorsy types. Building on its strengths, OR has released a new line of headwear for warmer weather and fairer skies, when sun protection and breathability are the priorities. These new hats are made with a variety of materials, including organic cotton, linen and even woven paper. The lightweight Echo cap ($24) wicks moisture while blocking the sun, and is great for desert trail runs or other hot-weather pursuits where sun exposure is an issue. Also look for: The SunShower Sombrero ($60) and Paladin jacket ($250)
Wallingford's POW Gloves is making a name for itself with cutting-edge snow, golf and bike gloves. Road cyclists will like the lightweight Wasp glove ($30) for its abundant venting and sleek styling. An anatomical gel reinforcement in the palm, and thermoplastic rubber (TPR) closure tabs and pull loops complete the scenario. An even more streamlined option is the Skinny ($25), made from a soft, stretchy material with a generous amount of neoprene on the palm for a sure grip. A low-profile gasket cuff precludes the need for any other sort of closure tab. Mountain bikers, cyclocross riders and winter road riders might like POW's Last Resort ($40). This midweight option features a tacky grip print, reinforced thumb, terry nose wipe, reinforced palm and loop/hook pull closure.
One of the best-known gear makers in town, K2 Sports also operates in SoDo. While recognized mostly for its skis and snowboards, K2 keeps warm-weather shredders moving on its inline skates. This spring, K2 is debuting the new line of Boa skates ($220)—the Moto 84 Boa for men and the Alexis 84 Boa for women. Designed for fitness skating on paved surfaces, they feature wheels that grip the road and absorb vibrations at high speed.
Since 1897, Filson has been supplying hunters, fishermen, loggers and others with rugged, attractive outdoor gear and clothing—much of it crafted in the company's SoDo factory. While Filson is more about time-tested designs that never go out of style, every so often the company does roll out a worthy new product, such as 2011's Passage luggage line ($100–$390). These water-resistant briefcases, duffels and suitcases blend classic styling with modern durability.       
Few Seattleites are aware that Raleigh America, which owns the Raleigh and Diamondback bike brands, is based in Kent. The company's all-new Raleigh Revenio 4.0 road bike ($1,650) is a bargain, given the high-end components and comfort-tweaked riding geometry.
Auburn serves as the U.S. headquarters for the oldest performance apparel and footwear brand in the world, Norway's Helly Hansen. The company's Ekolab Recycler jacket ($325) has become a favorite among mountain-guide testers not only for its eco cred—it's made from 100 percent recycled polyester—but also for its lightweight, three-layer Helly Tech XP weather protection, perfect for spring outings in our unpredictable Northwest weather.
Tukwila's Easy Rider Canoe & Kayak Co. has added two new kayaks to its already extensive line of human- and sail-powered small boats. The Harpoon TR ($4,300 in Kevlar; $5,000 in graphite), a 19-foot touring kayak, is designed for the paddling purist who appreciates the speed and efficiency of a competition-caliber hull as well as the seaworthiness, stability and cargo capacity required for extended trips. The Beluga CRX 2G ($4,900 in fiberglass; $5,900 in Kevlar/graphite), an 18-foot tandem kayak, combines stability and lots of gear stowage with sporty handling. Also look for: The new, all-weather Harpoon R expedition rowing shell ($4,800 in Kevlar/graphite; $5,800 in all graphite), which allows rowers to venture out into rougher waters previously accessible only by sea kayak


FIND IT
If you're not already outfitted for spring and summer, now is the time to stock up. You don't have to look far if you live in or near Seattle. And the joy you'll get using your new stuff in our great outdoors will be magnified by knowing that every gear purchase you make from a local manufacturer helps the region's economy.
Cascade Designs Inc.
Seattle, 1972
cascadedesigns.com
Easy Rider Canoe & Kayak Co.
Tukwila, 1970
easyriderkayaks.com
Eddyline Kayaks
Burlington, 1971
eddyline.com
Filson Co.
Seattle, 1897
filson.com
Helly Hansen
(U.S.) Inc.
Auburn, 1877*
hellyhansen.com
K2 Sports
Seattle, 1962
k2sports.com
Outdoor Research
Seattle, 1981
outdoorresearch.com
POW Gloves
Seattle, 2002
powgloves.com
Raleigh America Inc.
Kent, 1887*
raleighusa.com
REI
Kent, 1938
rei.com
* Year parent company was founded