Revolver Bar Brings Sweet Sounds and Sips to Capitol Hill
A bar that is devoted to vinyl, vintage, and a verifiably cool atmosphere
By Seattle Mag August 18, 2014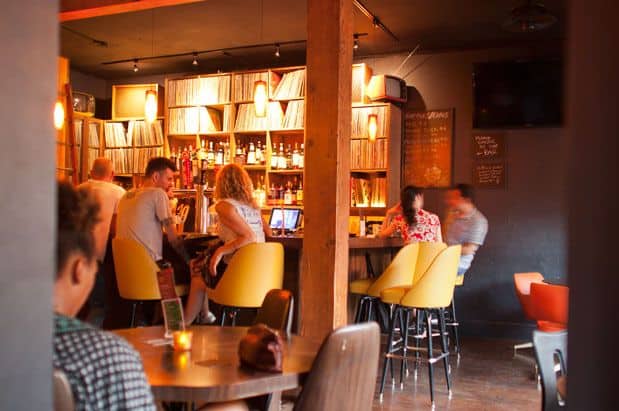 Putting the needle to the record in the busy corridor at the eastern edge of Capitol Hill, between Montana bar and tiny takeout spot Kedai Makan, Revolver Bar (1514 E Olive Way; 206.860.7000; revolverbarseattle.com) stands out with its unrivaled devotion to vinyl, a tight selection of dandy drinks and a comfortingly cool atmosphere.
The house cocktail list, put together by bar manager Clarita Hinojosa (formerly of Belltown's McLeod Residence) isn't expansive, but it has some definite hits, including the English Scheme ($10; Plymouth gin, mixed berry shrub, Scrappy's lavender bitters, lemon). Its refreshing refrain is perfect for a sunny Saturday afternoon. The Rogue Orb ($7) is another worthy combo, with its spicy mingling of tequila, cayenne, smoked salt and pineapple. You'll also find a solid selection of beers on tap and in bottles and cans, and some welcome house-made nonalcoholic sodas, highlighted by the Hibiscus Flower Fizz ($3).
The drinks are accompanied by unpretentiously scrumptious Cajun-influenced food. The corn-crusted catfish sliders ($9), topped with house-made tartar and red pepper aioli, are a good choice, and the ratatouille slider ($8), brimming with eggplant, zucchini, peppers and a zingy tomato sauce, is a vegetarian's dream lunch.
Opened by Electrokitty Recording Studio (where everyone from Mudhoney to Carrie Underwood has recorded) owner Gary Reynolds in the spot that once housed Dinette (and the Green Cat Café way back when), Revolver has around 2,500 LPs shelved above the nice selection of spirits and liqueurs, and two turntables are continuously playing those records. More modern mixes are in evidence, and requests that stick with the theme are accepted; the last time I was in, the bartender spun Dylan, Neil Young and the Stones. And it was perfect, matching up in style with the decor of dark wood, classic padded barstools and vintage furniture, a sunburst clock, round mirrors and light fixtures of yellow frosted glass; it's like a hip older brother's first apartment after college—if he graduated in 1968. The bar is cool, but a relaxed cool—it's an ideal spot to stop in for happy hour (4–7 p.m.) cocktails. Or slip in later when on many nights you'll find folks such as Emerald City Soul Club and underground DJs playing everything from electro to new wave to early garage rock.
Sign up and get Seattle's best events delivered to your inbox every week.