Give meaningful gifts and use nature's decor to work holiday magic without blowing your budget

BY:

Laura Gaskill, Houzz Contributor

|

Updated: December 1, 2016

Image Credit:

Holly Marder, original photo on Houzz

This article originally appeared on Houzz.com.

Between the endless stream of holiday music, window displays and festive events, the holiday season can sometimes feel like a never-ending parade of opportunities to blow the budget. But when you set and stick with a budget you feel comfortable with, you are bound to feel better, and probably more festive as well, knowing the holidays aren't bankrupting you. Let's take a deep breath and start the holidays off on the right foot: with a plan to spend less money and experience more joy. Here are eight ways to do just that.

1. Choose a gift strategy. Shopping for gifts for many people can be overwhelming, especially when you are trying to stick to a tight budget. Rather than shopping anytime, anywhere or (even worse) doing a marathon day of shopping at the mall, I've found it easiest to stick to my budget and still have fun by setting a few parameters first. Consider adopting one of these ideas for yourself this year:

Buy from local shops. If you enjoy the experience of shopping for holiday gifts, why not support your local businesses while you're at it? While it's true that many independent shops don't have the same big sales as the larger stores, you can often find unique smaller items at reasonable prices.

Go vintage. You are sure to find something unique, and most shops have offerings at all price points. Choose one amazing thing and give it to everyone on your list. It takes a little courage, but if there is one thing you feel strongly about, why not give it to everyone and be done with it?

Shop online. Shop on sites with free shipping and time your shopping for big sale days like Cyber Monday (the Monday after Thanksgiving).

Related: 15 Quick, Easy and Cheap Holiday Decor Ideas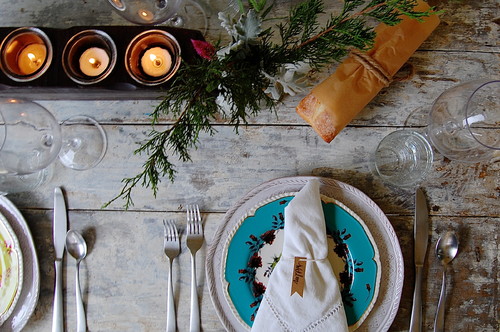 2. Set a simple table. A few sprigs of greenery, the warm glow of tea lights, loaves of fresh bread — it doesn't take much to make a table feel special. Save the money you didn't spend on holiday-specific tableware and decor, and use it on an experience instead; you will remember it far longer than what your holiday table looked like. And if you do want to spruce up your table with a few new things, may I suggest hitting your local vintage store before buying new? You can find beautiful little cocktail glasses, pretty dessert plates and more, often for less money than new items ... and they'll have more character.
3. Hold a crafting party or handmade-gift swap. One creative way to get much of your gift gathering done in one swoop is by hosting a crafting party or gift swap. To host a crafting party, gather a group of friends, decide on a project (or two or three), and meet up for a marathon making session. If you go in on supplies for the shared projects, you can save a great deal compared to buying what you would need to make only one or two individual projects, and you can share your skills. To hold a handmade-gift swap, have each participant make a big batch of handmade gifts of one kind, then bring them to the party and swap, so each person comes away with a variety of presents to give.
Related: Create a Craft Corner 


4. Remember childhood pleasures. What was your favorite thing about the holidays as a child? What made it magical to you? Try reviving a favorite tradition, like gathering around the piano to sing carols, cozying up in front of the tree sipping hot cocoa, tramping through the woods or building a snowman. Bake something that makes your house smell wonderful. Do what makes you happy and skip the things that don't hold as much meaning for you.
5. Grow your own holiday cheer. Forcing bulbs is an easy way to create an impressive display or gift for very little dough. Seek out unusual containers to set your plantings apart—consider a vintage crate, old tins with pretty labels, compotes and soup tureens. Buy bulbs in bulk and plant a bunch of containers at once; then use them as hostess gifts throughout the season.

6. Decorate from the cupboards and woods. Pinecones, sprigs of greenery, wild berries and bare branches all make beautifully simple decor for the holidays. Supplement finds from a nature walk with pretty holiday kitchen items like clementines, pomegranates, nuts in the shell, star anise and cinnamon sticks. Once you've amassed a bunch of pretty stuff, arrange it in bowls, compotes, vases and jam jars. Greenery trimmed from outdoors can be used to form simple wreaths or embellish a banister, and ornaments can adorn coat hooks, chandeliers and bare branches for a bit of sparkle. So simple, and you hardly have to spend a dime.
7. Adapt and modify. You probably know the feeling: You see a picture of a room, a holiday table etc. that you love, and suddenly you feel the need to re-create it. To stick to a budget, the key is to pull inspiration from that favorite image but adapt it or modify it for your home and budget. For instance, inspired by the photo shown here, I would print a silhouette image of Santa and iron it onto a set of my plain old pillow covers, and perhaps cover some old books with plain red paper.
8. Set a budget without being a Grinch. If you have kids, there are ways to get them onboard with less-expensive gifts without coming off as antifun. Consider encouraging siblings to make homemade gifts for one another instead of buying new.
Enlist the kids to make a Christmas video greeting instead of sending out paper cards. If you need to save money on gifts for your kids, consider setting guidelines. For instance: one gift they can wear, one to read and one just for fun. If they are at an age where opening lots of gifts is half the fun, wrap up a bunch of things they need anyway, such as new crayons and socks, to beef up the pile.
No matter whether you shop or DIY, it's important to set an overall budget—then look over your list and estimate how much you can afford to spend on each person. Be sure to adjust your budget as you shop, so if you spend more on one person, you can plan to save elsewhere.
Related: White Elephant Gifts Under $25 That Everyone Will Love